33 cadets from throughout the FSM participating in FSM Police Academy in Pohnpei
Details

Category: News
Published: Friday, 04 August 2017 11:47
Written by Bill Jaynes
Hits: 2392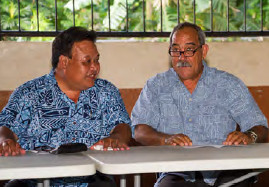 By Bill Jaynes
July 17, 2017
Pohnpei, FSM—33 police cadets from throughout the FSM are currently taking part in a rigorous Police Academy which is happening on the grounds of PICS High School. The Academy began with a short ceremony at the PICS High School gym. Pohnpei's Lt. Governor Reed Oliver and FSM President Peter M. Christian were the featured speakers at the ceremony. Both challenged the cadets to work hard and to commit to fully serving and protecting the people in their jurisdictions.
Visiting instructor from Australia, Glenn Verona opened the ceremony with a song on the bagpipes. FSM National Police Chief Johnny M. Santos said that Verona is in charge of the Academy. The National Police provided two staff officers. Kolonia Town, Kosrae, and Pohnpei police departments each provided one staff officer. He said that another instructor will arrive before the Academy is over to teach classes on legal issues of law enforcement.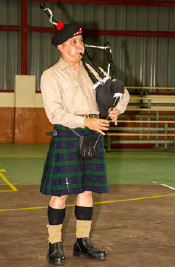 Chief Santos said that the curriculum for the academy was previously developed in the FSM but that curriculum had been developed for 90 day Police Academies. This year the FSM only had enough money for a 30 day intensive academy. Because of that, the curriculum had to be revised and intensified.
Each day the cadets start physical training at 4:00 in the morning. At 7:00 they break for breakfast and showers and hit the classroom beginning at 8:00. They have a full day of instruction that ends at 4:00 in the afternoon. The evenings are spent studying and preparing for the next day.
Yap and Kosrae each sent three cadets to the Academy. Kolonia Town sent two. Pohnpei and Chuuk each sent five cadets. The National Police sent 15. Only three of the cadets are women.
Chief Santos said that some of the cadets participating in the Academy are new hires in their respective police departments. Many have already been serving as officers in their jurisdictions. The Academy intends to further the professionalization of police departments in the FSM.
Santos said that they will conduct other academies as finances allow.
As soon as the opening ceremony was completed, Academy instructors ran the cadets onto the track and the Academy began immediately.