Pohnpei's shrinking reef islands: an impact of climate change?
Details

Category: Climate Change
Published: Monday, 28 August 2017 09:44
Written by Patrick Nunn
Hits: 6808
By Patrick Nunn
August 1, 2017
FSM—Many readers will be familiar with the small beautiful islands, covered with coconut palms and fringed with white-sand beaches, that sit on the edge of the coral reef off the south coast of Pohnpei. From Dawahk in the west, through Nahlap and Laiap in the center, to Nahpali way out east, these islands have been a feature of Pohnpeian geography for hundreds, perhaps thousands of years.
But there are not as many islands as there were once. North of Kehpara, according to Ertin Poll, there was once an island named Kepidau en Pehleng that has now disappeared. And northeast of Penieu, there was a famous island named Nahlapenlohd. This island was so large that in the year 1850 it was the site of a pitched battle; some stories recall that fighters hid behind coconut palms to avoid musket bullets. But today, there is no sign of Nahlapenlohd, not even a mound of sand marking where it once was. Perhaps, as some stories tell, so much blood was spilled during the battle that it washed all the vegetation off the island, leaving it exposed to erosion by the waves. More likely, the rise in the ocean surface (sea level) that has been affecting FSM for several decades is responsible for the disappearance of Nahlapenlohd.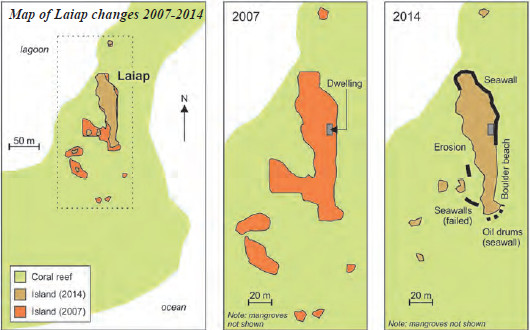 Although there have been minor fluctuations, sea level has been rising in most parts of the Pacific for the last fifty years or more. Over the last twenty years, sea level has been rising faster than the global average in FSM-Palau and in Solomon Islands. To understand the effects of this, a recent study was conducted by Patrick Nunn and Roselyn Kumar from the University of the Sunshine Coast in Australia with Augustine Kohler from FSM's Department of National Archives, Culture and Historic Preservation. The research team visited ten reef islands off the south coast of Pohnpei and found that some of them – not all – were showing signs of erosion consistent with the effects of rising sea levels.
While islands like Dawahk, Kehpara and Nahlap on the sheltered (leeward) side of Pohnpei showed little sign of erosion, those more exposed to waves and wind from the east did. These include the island of Nahtik, which is estimated to have lost 70% of its 2007 landmass, and Ros which has shrunk by about 60% since 2007. The sand strip that once connected Dekehtik and Na off the southeast coast of Pohnpei seems to have disappeared some time in the last twenty years.
When sea level rises, it forces changes to the shape of sandy beaches. It removes material from their higher parts and dumps it offshore. This is known as the Bruun Effect and is believed to be responsible for most of the shoreline erosion that has been observed over the last few decades on many Pacific Islands. While it is difficult to be certain, the weight of evidence suggests that sea-level rise is behind the disappearance and shrinking of the sand islands off Pohnpei's southern reef barrier.
But there is some better news. Patrick's team found hardly any evidence of shoreline erosion consistent with sea-level rise along the fringes of the main island in Pohnpei. This is hardly surprising considering that most of it is cloaked by mangrove forest – and it does underline the importance of preserving mangroves. Throughout the Pacific Islands, mangroves have been shown to be the best way to protect shorelines from erosion associated with sea-level rise. The researchers also visited Ant Atoll, where no clear signs of the effects of sea-level rise could be observed.
If you would like an e-copy of the full research report, please email Patrick on This email address is being protected from spambots. You need JavaScript enabled to view it. and he would be happy to send you one.