Undersea fiber optic cable lands in Yap Chuuk landing scheduled in the next few weeks
Details

Category: News
Published: Friday, 01 September 2017 14:38
Written by Bill Jaynes
Hits: 4222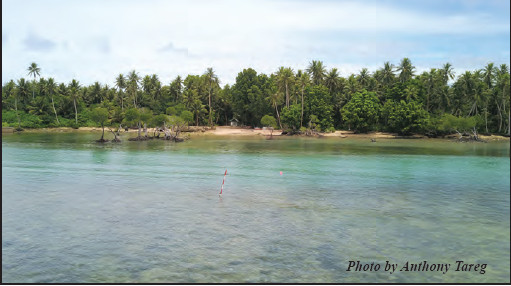 By Bill Jaynes
The Kaselehlie Press
August 24, 2017
Yap, FSM—An undersea fiber optic cable to eventually connect Yap to Guam arrived on August 22. The Yap Spur Cable was landed in Yap into the beach manhole onshore at Gilman Village on the southern end of Yap proper through a prepared seaward duct. Though the project is one of FSM Department of Transportation, Communications and Infrastructure's (TC&I) projects, a crew from FSM Telecommunications Corporation (FSMTC) was on-hand to receive the cable, which was laid and fixed on a prescribed route along and over the reef and out to sea.
A spokesperson at FSM TC&I said that a fiber spur will also be arriving in Chuuk within the next few weeks.
The infrastructure for connecting the cable to the FSM telecommunications system is not yet in place.
NEC is the contractor that has been laying the cable. A consultant for the project wrote in an email that the first test results indicate that all is well with the cable. He called the landing at the beach manhole a "big milestone" toward getting fiber optic cable service to Yap's main island but wrote that the effort is not yet over. He wrote that during the next few days, the cable ship Pacific Link will be laying the Yap Spur on the sea bottom and joining it with a branching unit on the cable system SEA-US which will carry digital traffic optically to Guam.

In the next two weeks, the remaining NEC crew and support divers will fix the cable system with the Beach manhole in Yap, and will install articulated cast iron pipe from the duct entrance to the reef and over to a depth of 20 meters.
The consultant said that during the next few months, a "front haul duct" from the beach manhole to the cable landing station needs to be constructed, the cable landing station prepared, and equipment installed and tested.
The fiber optic project for the FSM will be funded by the World Bank but disbursement of those funds has not yet happened. A spokesperson for TC&I said that the FSM government is working on meeting the World Bank's conditions for disbursement of the funds.
During the most recent special session of the FSM Congress, Senators voted to overturn a presidential veto of one of its bills to provide FSMTC free access to the Yap spur of the cable.
Open, competitive access to the cables World Bank will be paying for is one of the conditions of disbursement. The FSM also needs to fully establish an open access entity, a process that is only currently partially complete.