Wasa Lapalap Isipahu engaged in Island Food Community of Pohnpei Programs
Details

Category: News
Published: Friday, 01 September 2017 14:59
Written by Mona J. Tara
Hits: 1157
By Mona J. Tara
Island Food Community of Pohnpei August 22, 2017
Pohnpei—The Island Food Community of Pohnpei (IFCP) has been working for quite some time on a project they call D-HOPE (Decentralized Hands-On Program Exhibit). The D-HOPE project will culminate with the publication of a magazine that will be distributed throughout Pohnpei. The hope is that the exhibits and the magazine will lead to innovative activities leading to small scale entrepreneurship.
The last workshop of the project included the review and final draft of each profile and a mini-exhibit of the programs.
His Majesty Kerpet Ehpel, Isipahu, Nanmwahrki en Madolenihmw, who is the owner of Pohnpei's very center of culture, the Nan Madol ruins. The Nan Madol runis are one of the profiles for the D-Hope magazine.
IFCP sent an invitation to His Majesty through a fore-runner, Romeo Walter, Salapat who did a Sakarada on August 12 for a meeting. Later that day, IFCP was honored that Isipahu accepted the invitation to attend a meeting on August 14 for the purpose of reviewing and finalizing His Majesty's profile for the D-HOPE magazine.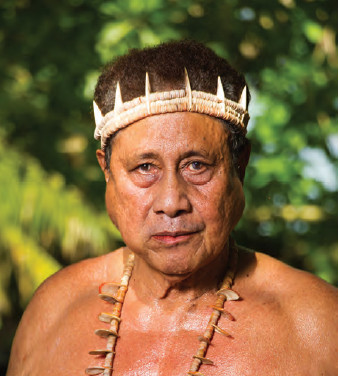 On Monday August 14, 2017, at River Side Restaurant, the IFCP Executive Director and staff were greatly honored to have the presence of His Majesty, Isipahu, Nanmwarki of Madolenihmw and Likend Madolenihmw, Mrs. Rihna Ehpel.
IFCP was also honored to have the presence of Iso Nahnken of Madolenihmw, Mr. John Adolph, and Iso Nahlaimw of Madolenihmw, Tadasy Shelten in this meeting. Also present at this meeting were Johnny Hadley Jr. representing the Director of the Department of Health Services, Mr. Nickolson Solomon, Director of Resources and Development, Mr. Romeo Walter also from Resources and Development, Pohnpei State Government.
After His Majesty reviewed the Nan Madol profile, he said that he really appreciated the project and activities of IFCP and would support the work. He suggested that a photo of Isipahu in Nihn (traditional wear) at the Nan Madol Ruins would be more appropriate to be included on the Nan Madol page in the magazine. With all present being in agreement with his suggestion, IFCP was tasked to schedule a photo session.
The photo session was conducted on August 21, 2017 at 4 pm at the Nan Madol Ruins with His Majesty Isipahu in His Nihn en Isipahu by the well-known media editor and photographer, Mr. Bill Jaynes of The Kaselehlie Press. IFCP is very thankful and expresses our Kalangan Lap to Mr. Bill Jaynes for the very short notice request that he accepted without charging a fee.
IFCP would like to extend our special thank you to Wasa Lapalap Isipahu, Nanmwarki en Madolenihmw, Likend Madolenihmw, Isoh Koa, Pohnpei State Department of Health, Department of Resources and Development, The Kaselehlie Press, and FSM Department of Health and Social Affairs for funding support.