Pingelap Community in Pohnpei Celebrates "Green Day"
Details

Category: News
Published: Monday, 18 September 2017 09:29
Written by Konrad Englberger, IFCP
Hits: 1703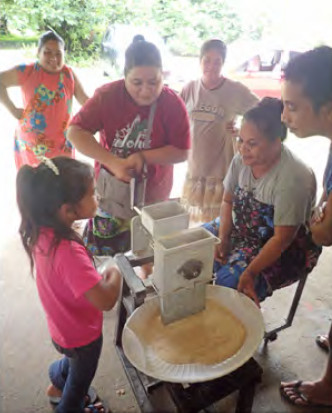 By: Konrad Englberger, IFCP - SEP 18, 2017
During the "Green Day" celebration which was held on September 2. 2017 at the Botanical Garden, Island Food Community of Pohnpei (IFCP) demonstrated to a group of women how to make flour from banana, taro and Breadfruit.
Konrad Englberger, IFCP Researcher who conducted the demonstration informed the participants that local made banana, taro and breadfruit flour is very high in Dietary Fiber, Calcium, Magnesium, Protein, Iron, Potassium and Vitamins, compared to imported white flour. IFCP has given flour mills and provided training to all the Municipalities in Pohnpei and Pohnpei Outer Islands to promote locally made nutritious food. IFCP hopes that people make use of these milling machines.
One of the IFCP Goals is, that people use more locally made food and to reduce the high number of NCDs, Non-Communal Diseases.
The research work conducted at IFCP concluded that a high quality, nutrient rich flour can be produced from local products like bananas, breadfruit and swamp taro with skin and without skin for a competitive price. Food tasting with banana, taro and breadfruit flour using different recipes was of high quality and was well accepted.