FSM receives visit from highest ranked Chinese official in FSM's history
Details

Category: News
Published: Monday, 18 September 2017 09:43
Written by FSM Congress
Hits: 436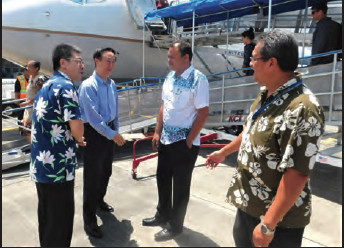 Palikir Pohnpei – September 1st through the 2nd marked a historic visit by H.E. Wang Jiarui, Vice Chairman of the Chinese People's Political Consultative Conference, and his delegation of 14 members. The CPPCC or better known in China as the PCC is a political advisory body in the People's Republic of China and holds much influence in China's political decision making process. The significance of this visit to the FSM is in reciprocation of recent diplomatic visits to strengthen relations with China by FSM dignitaries including H.E. Peter M. Christian, President of the FSM, and T.H. Wesley Simina, Speaker of the FSM Congress. Moreover, it is an official visit to the capital of the highest level by a dignitary from China to date and in itself necessitates the focal attention of Congress.
Vice Chairman Wang and his delegation were greeted at the airport tarmac by T.H. Esmond B. Moses, Vice Speaker of Congress; H.E. Jie Li, Chinese Ambassador; and Samuel Pretrick, Deputy Secretary of Foreign Affairs. Shortly thereafter, the Vice Chairman and his delegation were welcomed to Congress at the capital by Speaker Simina where bilateral discussions were to take place in the Congress Hearing Room.
Speaker Simina continued with his welcoming remarks and thanked the Vice Chairman and his delegation for their visit and hoped they would enjoy their short stay and wished for future visits to be longer so that the Vice Chairman can appreciate the other states of Kosrae, Chuuk and Yap, and their respective cultures and traditions. Speaker reiterated his request to Vice Chairman Wang for China to continue to work and engage with the FSM actively to further elevate our relations both at the bilateral and regional level.
On behalf of the national government, Speaker expressed his appreciation of China's support and cooperation in our nation's building efforts through the provisions of grant aid assistance, scholarships, and technical assistance which have been extended to us and looks forward to working closely with the Vice Chairman on the areas of mutual interest such as fisheries, transportation, climate change, agriculture, energy and tourism. On a similar note and other, Speaker's next remarks revolved around the discussion of additional economic assistance to supplement the FSM Trust Fund and the country's concerns on the glooming nuclear missile threat to the islands by North Korea.
The Chairman addressed the issues brought up by Speaker and assured the Speaker of China's continued full support of the FSM. In response, Speaker reiterated FSM's strong unequivocal support and adherence to the "One China Policy," which is the pillar to our diplomatic and bilateral relationship and as such, the FSM remains committed.
The meeting concluded with the exchange of pleasantries, gifts, and photo ops followed by refreshments.