A Tribute to the Honorable Ready E. Johnny by the Honorable Dennis K. Yamase, Chief Justice Supreme Court of the FSM
Details

Category: News
Published: Monday, 18 September 2017 09:46
Written by Kpress
Hits: 1061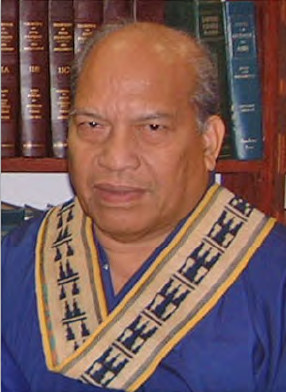 September 6, 2017
The Supreme Court of the Federated States of Micronesia pays tribute to the Honorable Ready E. Johnny, Associate Justice of the FSM Supreme Court, who passed away at his home on August 15, 2017 after a long illness and after serving the FSM Supreme Court as Acting Chief Justice and as an Associate Justice for over a decade.
Associate Justice (AJ) Johnny was truly a son of Chuuk and the FSM. He was born on November 24, 1946 in the State of Chuuk. From Oneop Municipality, AJ Johnny resided in Neauo village, Weno for over 45 years. He attended elementary school on Namoluk island in the Mortlocks region, and later transferred to the Mission School in Tol, Faichuuk. After attending the Mission School, AJ Johnny attended and graduated from Chuuk High School. He received his Bachelor of Laws Degree from the University of Papua New Guinea in 1987.
Associate Justice Johnny had a long and impressive professional career, almost entirely in public service. He was a Staff Attorney for the FSM Public Defender's (PD) Office, directing the PD Office in Chuuk. Prior to this position, he served as the Chief of the Division of Litigation and the Attorney General for the Chuuk State Attorney General's Office. His work included being a prosecutor for the State of Chuuk for over 20 years. AJ Johnny also served as an Assistant Attorney General for the FSM National Government. He was a member of both the FSM Supreme Court Bar and the Chuuk State Bar.
On September 5, 2006 he was nominated by President Joseph J. Urusemal to be an Associate Justice of the FSM Supreme Court. On January 19, 2007, he was confirmed by the 14th FSM Congress to be Associate Justice. The investiture of the Honorable Ready E. Johnny, as an Associate Justice, was held on March 30, 2007. With the passing of former Chief Justice Martin G. Yinug, Associate Justice Johnny served as the Acting Chief Justice for parts of 2014 and 2015.
For those who knew Associate Justice Johnny, many were impressed by his objectivity, fairness, calm demeanor, and level headed approach to the cases he presided over. He provided a very steadying influence on the court, especially on appeal panels. Many observed that his balanced approach was a result of his years of experience as both a prosecutor, a public defender, and as an attorney for the Chuuk State Government and the FSM National Government. His broad experience allowed him to view things from different perspectives and gave him an objectivity that not all judges possess.
Ready E. Johnny honorably served his country in the capacity of Associate Justice of the FSM Supreme Court until his untimely passing on August 15, 2017. For a long time, he continued to assist the FSM Supreme Court with its work, even though he was suffering from a long and difficult illness. He showed true dedication and commitment to the work of the Court in doing so.
A State Funeral was held on August 23, 2017 at the FSM Supreme Court in Weno, Chuuk, which was attended by his family, colleagues and FSM Supreme Court staff, other dignitaries from the FSM National Government and the State of Chuuk. The late Associate Justice Johnny was then taken to Silo Protestant Church in Neauo Village for a church service, before being taken to his residence. Associate Justice Ready E. Johnny was laid to rest at his home on August 24, 2017.
Associate Justice Johnny was married to the late Sinter Year Johnny and they had 6 daughters, 1 son, 21 grandchildren, and 10 great grandchildren. The late Associate Justice Ready E. Johnny will be sorely missed by his family, friends, colleagues and staff of the FSM Supreme Court.