For the 38th time Pohnpei celebrates Liberation Day
Details

Category: News
Published: Monday, 02 October 2017 15:17
Written by Bill Jaynes
Hits: 3093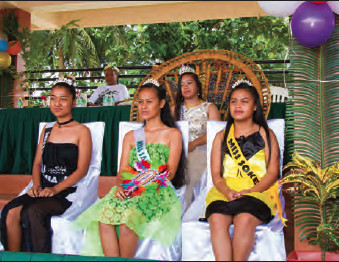 By Bill Jaynes
The Kaselehlie Press
September 11, 2017
Pohnpei—September 11 marked the 38th celebration of Pohnpei's liberation from Japan. It was on September 11, 1945 that U.S. Naval forces accepted the surrender of Japanese forces in Pohnpei and raised the American flag, ending the Japanese occupation. Though it has been 72 years since the date of its actual liberation, this year's celebration was only the 38th.
Today, the FSM and the government of Japan have had friendly diplomatic relations for 29 years. Japan's Ambassador Ryoichi Horie and his wife Yuko were at the PICS track for the formal commemoration ceremony of Pohnpei's liberation.
As the ceremony began, Miss Liberation Day Queen Chasity Salvador of Kitti and Princesses Zelain Perman, Frieda Abraham and Yasmine Ehpel took their seats on the dais. Afterward, athletes from each of the nine municipalities who participated in the games marched onto the track.
Youth for Change singers delivered a stirringly slow rendition of the Pohnpei State Anthem.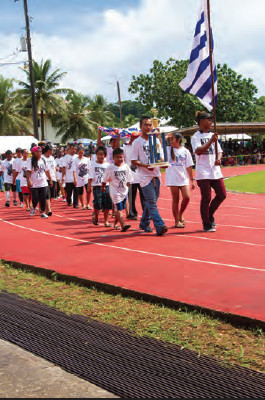 Governor Marcelo Peterson gave his remarks, and Dr. Rufino Mauricio delivered the Liberation Day Address. His Highness Salvador Iriarte, Iso Nahnken en wein Nett gave his remarks, followed by a final song by the Youth for Change singers before the final track and field (athletics) events began at the track.
Nine of Pohnpei's municipalities participated in the games that traditionally lead up to the Liberation Day events. Individual and team events have been taking place in Pohnpei for a few months. The Sports Commission did not provide names for any of the individual events. It did provide medal tallies for each event.
In the end, Nett had scored a total of 111 medals. Kitti had 86. The two municipalities total medal tally eclipsed their closest competitor U in terms of total medals won. But Sokehs athletes garnered more gold medals than U and so came in third. The committee ranked the scores of the municipalities by total number of gold medals won. Total medals only came into play if there was a tie between total gold medals earned.
Based on gold medals won, Nett athletes came in first with 50 followed by Kitti with 31. Sokehs was third place with 12 gold medals. U had eight and came in fourth. Kolonia had seven gold medals for fifth place. Madolenihmw had one gold medal as did Nukuoro but Madolenihmw had six silver and three bronze medals while Nukuoro only had the one gold medal. Madolenihmw was in sixth place and Nukuoro was in 7th. Neither Kapingamarangi nor Sapwuahfik earned any gold medals but Kapingamarangi scored three silver medals and one bronze medal giving them the eight place position. Sapwuahfik athletes scored three bronze medals and came in ninth .
Mwokilloa and Pingelap did not have competing athletes in this years, Liberation Day Games.
Sporting events for the games were separate men's and women's fast pitch softball, baseball, men's and women's basketball, men's and women's volleyball, soccer, men's and women's singles and doubles table tennis. Only males competed in singles and doubles fishing while there were categories for males and females in the Micro All Around. There were seven weight class categories for boxing (see separate article). There were eight weight class categories each for free style and Greco Roman style wrestling. Women competed in three weight classes in free style wrestling. There were also competitors in men and women's lawn tennis.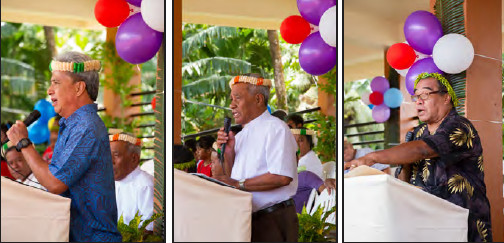 In athletics there were 28 separate women's and men's running events of varying distances. There were 12 field events including javelin, high jump, long jump, discus and others.
Nett took the Little League baseball competition followed by two teams from Kitti for second and third places.
There were 27 separate men's and women's swimming events. Nett took the lion's share of the gold medals for those events.