Three Micronesian students visit the Arctic for Coral and Ice Exchange program
Details

Category: News
Published: Monday, 02 October 2017 15:26
Written by Bill Jaynes
Hits: 4953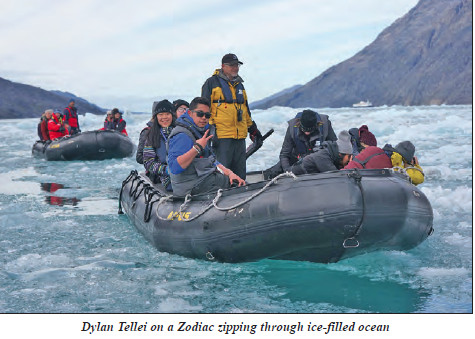 By Bill Jaynes
The Kaselehlie Press
September 22, 2017
Micronesia—Three students from the Micronesia region recently returned from the arctic where they participated in an innovative program known as the Coral and Ice Exchange.
Chloe Arnold of Chuuk, Karen Ehmes of Pohnpei, and Dylan Tellei of Palau applied for the program and were selected to attend after the application and interviews.
The program was envisioned and developed by the Canadian organization, the "Students on Ice Foundation" and the Micronesian organization, Island Research and Education Initiative (iREi).
iREi Founder and Director Danko Taborosi said that one of the outcomes from the visit that perhaps surprised the students the most was the remarkable similarities between the cultures of the north and their own cultures despite the dramatically different climate. Each of the students wrote a summary of their experiences that we will publish in this issue. He said that Mr. Martin Carl, the principal of Xavier High School was extremely supportive in the student selection process and helping to prepare them for the visit.
Taborosi said that the plan is now to bring three Inuit students from Canada and Greenland to visit the Micronesia region sometime next year. This was the first Coral and Ice Exchange but the hope is to make it an ongoing, annual event.
iREi paid for the participation of Karen Ehmes. Chloe Arnold was sponsored by benefactors Tarek Sherif and Sophie Nicholson. Dylan Tellie was sponsored by Shallum and Mandy Etpison.

The brochure for the programs tells applicants, "We have created this opportunity because we believe that giving you a chance to experience how climate change affects people in other parts of the world and to share with them how it affects your own community will create long-term benefits in both Arctic and island societies. What you gain in this experience will empower you to help your community better adapt to climate change and together build a sustainable future."
"The objective of bringing Micronesian students to the Arctic and Inuit students to tropical islands is to expose and educate them to the characteristics of vulnerability and resilience shared by their societies. This reciprocal exchange creates a circular experiential dynamic beneficial to all stakeholders and creates a group of young people possessing a unique and direct understanding of climate change, empowered to become indigenous leaders in their communities and abroad, and able to work across cultures for a more sustainable future," the brochure says.
After several days of pre-expedition activities in Ottawa, students and staff flew to Resolute Bay, in the Canadian province of Nunavut to board the expedition vessel there. They set sail to explore the communities, coasts, fiords, bays and islands of the Canadian Arctic before crossing the Davis Strait to explore the western coast of Greenland. The expedition explored the eastern entrance of the Northwest Passage with visits to Pond Inlet, Beechey Island, and the breathtaking Sirmilik National Park. In Greenland, students explored a UNESCO World Heritage site, the Illulisat Icefjord, before sailing south to the quaint fishing town of Itilleq. The expedition ended in Kangerlussuaq, where participants boarded a charter flight back to Ottawa. Each day was filled with exploration, discovery, presentations, workshops, hands-on research, hikes and lots of adventure.
Computer users can view a 16 minute recap video of the expedition at
See also:
Karen Ehmes on the Coral and Ice Exchange
Dylan Tellei on the Coral and Ice Exchange
Chloe Arnold on Coral and Ice Exchange