New community theater company starting in Kolonia
Details

Category: News
Published: Monday, 02 October 2017 15:38
Written by Kpress
Hits: 1246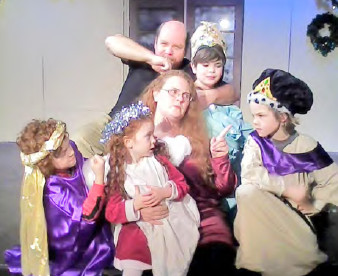 Four volunteers have begun a theater group in Pohnpei—The Pohnpei Players. They will be holding their first open casting call at Pohnpei Catholic School beginning on Friday, September 29.
Wayne and Kristi Parker, along with their children (ages 15, 14, 12, and 10) moved to the island in February to work as full-time missionaries with the Kolonia and Mesisou Churches of Christ, but their vision of work on the island didn't end with their church work; they had a desire to share their extensive education and experiences with performing arts and performance management with the community in Kolonia. Wayne and Kristi each have over 30 years of performance experience through acting, singing, and choreography and have performed with many choral and theater groups all over the world. They both have experience with directing, teaching, managing and working in all aspects of performances, both on and off-stage. Their children also began performing at very young ages, and theater has become a hobby bringing together their whole family.
Community theater unites communities through laughter, excitement, and awe for both the performers and audiences. A local theater company not only gives the town entertainment and something to do, but the patrons (audience) and participants are able to gain new life experiences without leaving their own town, grow to be more accepting and understanding of other cultures, learn empathy and compassion, and become more self-aware. The people who become a part of a production, both on and behind the stage, gain and grow self-confidence and friendships as well as learn discipline, conflict resolution, responsibility, how to be a team player, the importance of helping the community, and much more, and little can beat the excitement and satisfaction of being a part of the hard work and completion of a successful production.

This summer, the Parkers were introduced to Dr Sandra Wang-Harris through mutual theater friends in their home town of Huntsville, AL before Dr Wang-Harris moved to Pohnpei in August. After much discussion, they decided to join together their performance education and experiences and start a local program in Kolonia. So, with excitement, understanding the importance of community theater, Wayne and Kristi Parker, Dr. Sandra Wang-Harris and Natasha Funke, through the help of many eager to get a performing arts program started in Pohnpei, have recently founded Kolonia's brand new community theater company, Pohnpei Players.
The founding board members are hoping to have a program capable of 2-3 performances each year. The first performance season will be kicked off in December with a hilarious comedy, The Best Christmas Pageant Ever, from the book written by Barbara Robinson. The production staff is as follows: Directors, Wayne & Kristi Parker; Producer, Natasha Funke; Production Manager, Dr Sandra Wang-Harris; and Student Director/Stage Manager, Spencer Parker. The following performance will be a larger cast musical production under the direction of Wayne and Kristi Parker, with Dr. Sandra Wang-Harris as the Music Director.
Pohnpei Players is having its first auditions to cast for The Best Christmas Pageant Ever. Auditions/Try-outs are at PCS (Pohnpei Catholic School) on Friday, Sept 29 from 5:00 to 8:00p.m. and Saturday, Sept 30 from 9am-12pm (choose one) with call-backs (second round – invitation only) on Sunday, October 1 @ 3:00.
They will audition performers ages 7yrs –adults who can speak and read English. All participants under 16yrs old must have a parent/guardian present during auditions. No experience or preparation is needed.
They are also looking for a tech crew to help prepare for the show and a backstage crew during the performances.
Come and be a part of Pohnpei Players' very first Cast & Crew and kick off the holiday season with laughter and a reminder of what Christmas is all about!
Contact This email address is being protected from spambots. You need JavaScript enabled to view it. for more information.