Kolonia Town celebrates 33 years since its Constitution was adopted
Details

Category: News
Published: Monday, 02 October 2017 15:40
Written by Bill Jaynes
Hits: 1901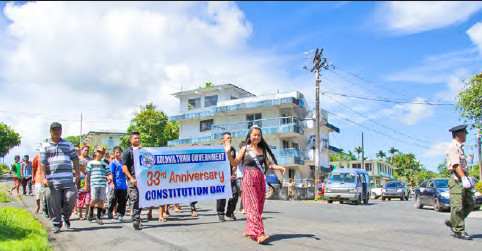 By Bill Jaynes
The Kaselehlie Press
September 20, 2017
Kolonia, Pohnpei— Kolonia Town celebrated the 33rd anniversary of its constitution this morning at the Town Hall. The celebration began with a march from the Pohnpei State government building to the Town Hall.
The Town leaders and citizens shared the celebration with its new Chief Justice, former Pohnpei State Police Chief Kerley Araceley. Acting Chief Justice of the Pohnpei Supreme Court, Nelson Joseph administered the oath of office to the new Chief Justice of Kolonia Town. Associate Justice Gustin Harris conferred the Chief Justices robe after which, Chief Justice Araceley gave special remarks.
Nixon Aldan served as the Master of Ceremonies for the event. Deacon Berley Araceley gave the opening prayer followed by the raising of the colors by the Kolonia Town Police department in their smart new uniforms.
Speaker Jack Harris gave the opening remarks.
Mayor Jose San Nicolas gave the key note address followed by the laying of wreaths for those of Kolonia's constitutional framers who have passed on since that day 33 years ago. The honorable Bethwel Henry, one of the founding fathers of Kolonia was present at the celebration.
The celebration ceremony ended with a recognition of Kolonia's athletes who participated in the Liberation Day Games, followed by the closing prayer delivered by Reverend Billimon Henry.
The program listed special thanks for generous donations from 7 Stars Store, Black Sand Store, Senator Marvin Y. Yamaguchi, and Elizabeth Lowe.