Nepalese refugees accepted for resettlement in Sweden
Details

Category: News
Published: Monday, 02 October 2017 15:47
Written by Bill Jaynes
Hits: 710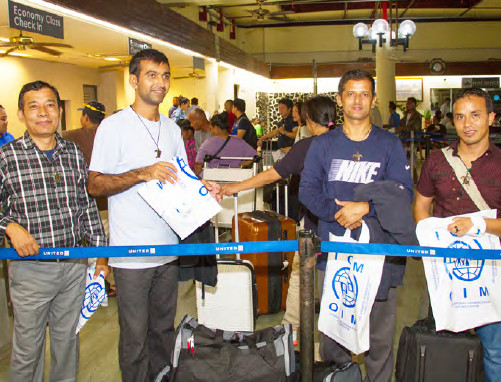 By Bill Jaynes
The Kaselehlie Press
September 10, 2017
FSM—Indra Ghimire, Hari Timsina, Khadga Bahardur Thapa, and Bishnu Tamang's nearly three year wait is over. Several weeks ago the government of Sweden agreed to allow the refugees to settle in their country. Accompanied by Assistant Attorney General Craig Reffner as far as Guam, the men left the FSM for Sweden from Pohnpei International Airport this evening.
"IOM has helped coordinate the travel and resettlement of the four and wishes them the best of luck in their new home," an International Organization for Migration Facebook posting said on the following day.
The four men and 13 other Nepalese citizens arrived in the FSM on ramshackle boats with the apparent intention of seeking refugee status in October of 2014. The UNHCR evaluated the individual cases and found that the four men were indeed, genuine refugees.
After lengthy negotiations with the Nepalese government, 13 of the Nepalese citizens were repatriated to Nepal over a year ago with the assistance of the International Organization for Migration. The four who were identified as bona fide refugees voluntarily remained in the FSM.
They were under tight supervision while in the FSM as the UNHCR negotiated with potential host governments to find a new home for them. Though the four were still under tight supervision, the FSM Supreme Court ruled several weeks ago that the men should be allowed to freely move about in Pohnpei during the day light hours.
The UNHCR deals with hundreds of thousands of refugees each year but there are only a few nations in the world who have established quotas for accepting refugees. The United States has traditionally led the world in accepting refugees but under the new administration that number is decreasing, leaving even fewer spots for possible refugee resettlement.
The FSM Department of Justice has previously said that it does not have any mechanisms in place to deal with potential refugees. After having dealt with the complexities of the resettlement of the Nepalese refugees, it is unclear whether in the future they will agree to host identified refugees pending resettlement should more arrive. A previous Assistant Attorney General said that the FSM definitely should not be considered as a destination for potential refugees.