Fiber optic cable ship pays a port call in Pohnpei after laying cable in FSM
Details

Category: News
Published: Monday, 02 October 2017 15:51
Written by Bill Jaynes
Hits: 639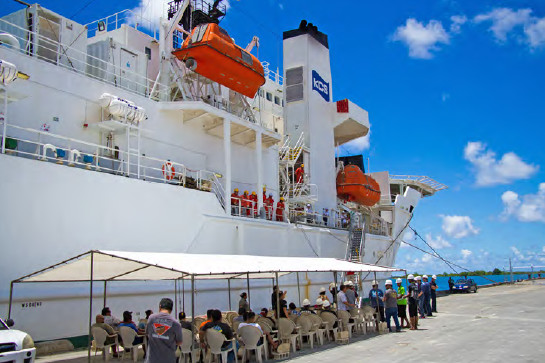 By Bill Jaynes
The Kaselehlie Press
September 20, 2017
Pohnpei—The KDDI Pacific Link which laid the fiber optic line to Yap three weeks ago and to Chuuk last week paid a port call at the Pohnpei port. Today they offered a tour of the sophisticated vessel in small guided groups.
Ambassador Ryoichi Horie and his wife Yuko were part of the first group.
The tour guide explained a map that showed thousands of fiber optic lines around the world. He said that the two largest users of that capacity are Google and Facebook companies.
He also explained some of the technical features of the massive vessel. He said that in addition to forward and reverse functions, the ship also has thrusters on each side of the vessel that allow it to maintain its position on the ocean to within one meter, left or right, forward or backward even in heavy seas. The ability is vital when laying carefully mapped out and planned runs of cable on very deep ocean floors.
He explained that the cable is not simply dropped randomly on the floor of the ocean but is carefully mapped so that it will lay out on the floor of the ocean properly. The ship uses sophisticated algorithms for its navigation during cable runs. Every motion is calculated and planned. Because of the great depth of the ocean, oftentimes the cable doesn't hit the ocean floor until the vessel is as much as 15 kilometers away.
From the bridge the group descended to the deck of the vessel where the tour guide showed us the deep wells where the cable is stored and staged for implementation. Since they had already made the runs to Chuuk and to Yap, there wasn't much cable left in the deep wells. From the wells, the cable moves through the use of a software controlled engine that uses multiple tires to control the speed that the cable is paid out.
He showed us a robotic machine that can be dropped on to the ocean floor and that is controlled by the use of joy sticks. He said that machine wasn't needed on this trip but is often used when they need to do work on deep cables.
He explained that the principal enemy of fiber optic cables is not nature but man. Ships sometimes illegally drop anchor and sometimes those anchors damage cable that has been laid. Busy harbors are particularly prone to that type of damage. In places like that, the ship has a sled that can be dropped into the water that digs a trench for the cable to lay in.
The cable is laid to Chuuk and to Yap. It will yet be some time before the details for service through those lines can be organized.