Chinese Embassy to the FSM donates uniforms to Pohnpei State and Kolonia Town
Details

Category: News
Published: Monday, 02 October 2017 15:55
Written by Bill Jaynes
Hits: 665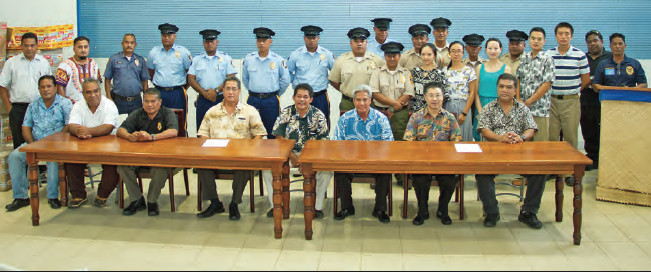 By Bill Jaynes
The Kaselehlie Press
September 15, 2017
Pohnpei—Ambassador LI Jie of The People's Republic of China presented donations of brand new uniforms to the Pohnpei State and Kolonia Town Police departments this morning during a ceremony at the Governor's conference room.
Director of the Department of Public Safety Benito Cantero said that the process of obtaining the uniforms took quite a bit more time than anyone had expected but that he was extremely grateful that all officers would now have uniforms. That had apparently not been the case before.
Ambassador Li explained that the initial idea had been to simply order three sizes, small, medium, and large but they thought better of that idea and instead sent the measurements of all of the officers in both of the police forces to the tailoring company in north China. The company made all of the uniforms based on those measurements but instead of inches, they used centimeters and the uniforms all had to be re-made and then shipped to Beijing for ultimate transportation to Pohnpei.
He said that he was pleased to be able to help the police departments because during his time in Pohnpei he and his staff had always felt safe due to the work that the officers do.
Governor Marcelo Peterson also heartily thanked Ambassador LI and the government of China.
While the Pohnpei State police uniforms are quite similar to what they have been using, the Kolonia Town officers have made a change to a much cooler color. Their previous uniforms were dark black. The new uniforms have green cargo pants and a khaki colored shirt.