Chuuk State Government reunites with Ichigo Holdings CO., LTD and JICA for the installation of the "Resilient Water Station" utilizing natural energy
Details

Category: News
Published: Monday, 23 October 2017 12:27
Written by Kpress
Hits: 221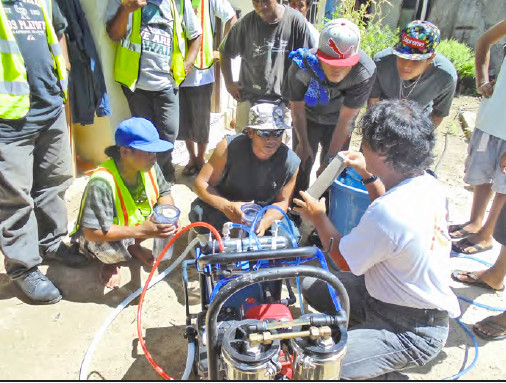 The Ichigo Holdings Team was once again dispatched to Chuuk from September 10th to 19th, 2017 for the purpose of installing additional water purification systems on the islands of Eot and Piis Panewu of Weno, Chuuk. These two islands have agreed to placement of water stations to produce drinking water and to distribute produced water to neighboring islands during disaster and emergency situation. In addition, the Team also conducted their first emergency water supply drill/trainings with organizations that are in charge of emergency operations such as Chuuk ODA, Chuuk Disaster Operations (CDO), and Micronesia Red Cross Society-Chuuk Chapter.
The Ichigo Holdings Team paid a visit to Honorable Johnson Elimo, Governor of Chuuk, for a meeting to discuss the overall schedule, necessary arrangements and any issues need to be resolved. The Chuuk Government, International Organization for Migration (IOM), Micronesia Red Cross Society were kind enough to provide logistics assistance such as transporting units (trucks and boats) for the donated water treatment and solar power equipment that included Ichigo Holdings product from AQUANEXT (Seawater-type: Model SW-NE5 & SW-NE1, Blackish- Type: Model BW-GS5 & BW-GE5, and Manual-Type: Model BW-HP).
Over twenty participants gathered at the Small Business Development Center (SBDC) for briefing from Chuuk State Disaster Control Office and JICA Study Team member and for the commencement of the drill. The drill started off with loading of the equipment, fuel, etc. and boarding of staff/workers. After arriving at the designated water stations, equipment were unloaded and transported to the site and began operation of the various water treatment system which were installed beforehand. During the drill, several community members, from elementary school children to community leaders, gathered to witness the drill and drank samples of the purified water. Although the drill targeted organizations in charge of emergency operations, a handful of community members were also actively engaged. The drill ended with removal of the systems and loading them back onto the boats for the journey back to Weno and closing out with a small meeting for evaluation.
The community members were informed that these water purification systems can be used daily to provide clean and safe drinking water. The daily usage will ensure that the systems are operable during emergency situations.