U ensures management of its natural resources
Details

Category: News
Published: Monday, 23 October 2017 13:13
Written by Kpress
Hits: 2284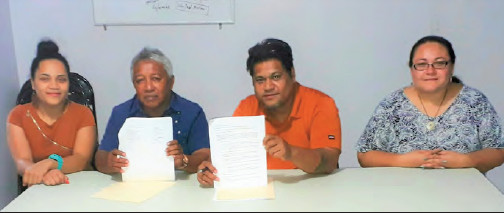 The U Municipal Government (UMG) continues to demonstrate its leadership and commitment to managing their natural resources for the betterment of its residents and environment. Over the past year, with assistance from various financial and technical partners such as Conservation Society of Pohnpei (CSP), Micronesia Conservation Trust (MCT), Rare, The Nature Conservancy (TNC), Pohnpei State GEF R2R project, and others; the UMG accomplished critical milestones toward improving and strengthening natural resource management, but additional staff is needed to implement the municipality's objectives. It's most recent initiative includes creating a permanent position, a Natural Resource Management Coordinator (NRMC), within their local governmental structure to spearhead conservation and management efforts in U. This new position will help coordinate and undertake efforts such as implementing the recently adopted U Municipal Fisheries Management Plan, the Nanwelin Rohi Forest Stewardship Plan, and other municipal level activities. The individual hired will also help coordinate activities among State and National level agencies, U government units, and the communities of U.

Initial funding support for the recruitment and employment of the coordinator will be provided by the German BMUB funds and FSM CIP through a consortium of the U Municipal Government, the Micronesia Conservation Trust (MCT), the Conservation Society of Pohnpei (CSP), and Rare. On October 16th, 2017, a small signing ceremony was held between UMG, MCT, and CSP to officially endorse this partnership. It is envisioned that the U Municipal Government will assume responsibility for the funding of this position through municipal budget allocations, state allocations, and other appropriate sources.
It is hoped that such staffing will increase the efficiency and effectiveness of management efforts within the municipality, since it is often difficult for State agencies to respond quickly, "Our community has always been the traditional stewards of U's natural resources, but today marks a historical moment for our municipal government", said Dahker Abraham, Chief Minister of U Municipal Government , as we embark on this journey to lead the establishment of a management system that allows for a more sustainable and long-term approach to improving our natural resources".
The U Municipal Government would like to acknowledge all partners who helped make this all possible and hopes to continue to work together to build more sustainable communities and effective agencies within Pohnpei that can respond to emerging needs and opportunity.