Governor Elimo approves Protected Areas Network bill for Chuuk State
Details

Category: News
Published: Monday, 23 October 2017 13:28
Written by Chuuk Conservation Society
Hits: 2526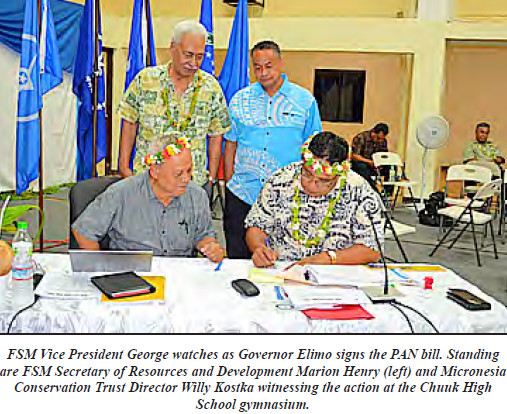 Chuuk Conservation Society
October 17, 2017
On the 17th of October, Chuuk State Governor Johnson S. Elimo signed into law the Protected Areas Network bill for Chuuk State at the latter part of the second and final day of the eleventh Federated States of Micronesia State and National Leadership Conference held in Chuuk.
The Governor's approval action capped lobbying efforts by various government and non-government entities the past thirteen months with a sense of success.
Seconds before signing the bill, Governor Elimo said the PAN legislation would "strengthen the stewardship of natural resources by rightful owners" and add to the successes of enduring customary resource protection practices. In addition, he believed the PAN effort would create opportunities for gainful collaboration involving resource owners and protected areas management partners.

A forerunner of the bill was first introduced in August 2016 at the House of Senate during the Thirteenth Legislature following joint efforts between the Chuuk State Attorney General's Office and legal technical assistance from the Nature Conservancy Pohnpei-based office and the Micronesia Conservation Trust. Review and coordination support were rendered by local entities, mainly the Department of Marine Resources, the Department of Agriculture, and the Chuuk Conservation Society. In spite of broad coordination, that initial bill ran out of time at the House of Representatives as the March 2017 election preparation intensified.
A little after the Fourteenth Legislature got underway, the Chairman of the House Committee on Resources and Development, Rep. Wisney Nakayama, reintroduced the PAN bill at the House with some added provisions relating to the protection of "intellectual property" and "benefit sharing" assertions for resource owners. Additionally, the new version added tougher penalties for intentional infractions and repeated violations committed by individuals or business operations.
May 24-25, Pohnpei State Governor Marcelo Peterson visited Chuuk along with Mr. Willy Kostka from MCT and Mr. Ricky Carl from TNC partly to engage with Chuuk leadership and publicly advocate for passage of the PAN bill. During that visit, House Speaker Inocente Oneisom and Senate President Mark Mailo affirmed their support of the bill. Likewise, Governor Elimo assured his visiting peer his readiness to support the measure when it is turned over to the Executive Branch.
The PAN campaign took its impetus from the region-wide Micronesia Challenge (MC) and was designed to create pathways for sustainable financing of conservation efforts that would advance the FSM State's commitment to the protection of twenty percent of their land-based resources and thirty percent of marine resources. In particular, an endowment fund has been set up as part of the Challenge to manage financial support from development partners, donors and matching funds from local governments.
The FSM National Government is to put in place a PAN policy framework and Country Program Strategy which will define uniform criteria for PAN sites. The framework will also formulate a sustainable finance mechanism allowing PAN sites to receive technical and funding support from various sources including the Micronesia Challenge endowment.
The States of Pohnpei and Kosrae have exercised PAN legislations that preceded the MC conservation initiative.
According to a Yap State legislator attending the SNLC, Yap's PAN bill has been submitted to the Legislature and may undergo committee hearing soon.
The passage of the PAN bill once again raised the par for conservation and resource stewardship planning undertaking in Chuuk following the adoption of the Shark bill in 2014, the passage of the Kuop Atoll protection bill early 2016, the adoption of the resolution urging the closure of 10 percent of FSM water from commercial fisheries (which is now a FSM law) in 2016, and the passage of the Coastal Fisheries Protection Act in November 2016.
In reaction to Governor Elimo's action on the bill, the group of resource management organizations and government partners present at the meeting acknowledged – "now the real work has just begun" – hinting at the mandate to collaborate strongly with communities that should benefit from the PAN arrangements in a more integrated and binding process.
For further information, contact the CCS office at 330-7227 or email either This email address is being protected from spambots. You need JavaScript enabled to view it. or Shirley Ann Pelep from MCT via This email address is being protected from spambots. You need JavaScript enabled to view it., or DMR Director Curtis Graham This email address is being protected from spambots. You need JavaScript enabled to view it..