Meet a Muslim event held in Pohnpei
Details

Category: News
Published: Monday, 23 October 2017 13:43
Written by Ahmadiyya Muslim Community FSM
Hits: 5118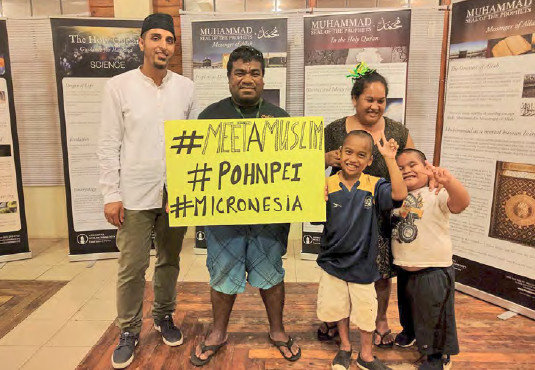 Ahmadiyya Muslim Community FSM
Muslims of Micronesia held a very unique event in Pohnpei this past month called "Coffee, Cake and True Islam". It aimed to remove misconceptions about their faith. "More than 60% of Americans have never met a Muslim, that is dramatically higher for people in Micronesia, so we wanted to make a comfortable platform for people to come and meet Muslims, ask us questions, and become at ease when they find that our teachings are peaceful. The biggest misconception is that our beliefs teach terrorism, but that is completely false", said Kauser, the Imam (Religious Minister) of the Ahmadiyya Muslim Community of FSM, currently the only Muslim denomination established in the FSM. There was a popular youtube advertisement that was seen more than 25k times all across Micronesia inviting people for this event. The Ahmadiyya Muslim Community commented that they wished to use a common platform to advertise for their event and especially something that was not used before.
"Some people met me with great fear thinking that perhaps I had hacked their computers to show our advertisement. I reassured them that this is a common way to advertise in USA, its through Google's advertisement services. Others however were ecstatic and very appreciative of the message and attempt. Some people recognized my name, while others would say 'we saw your video, Islam means peace!", said Imam Kauser further describing the overall experience. The event was attended by more than 50 people from different faiths and backgrounds. The US Ambassador Robert Riley was among those in attendance in addition to teachers, professors, businessmen and others. This event was the first of its kind to formally introduce the religion of Islam, more popularly known as Muslim, to the people of Pohnpei. It was also delightful to see the local Micronesian Muslims at the event. Tours were arranged at the Cliff Rainbow Hotel Conference Hall conducted by two visiting Imams from the Marshall Islands and Kiribati. Imam Fahad from Kiribati mentioned that "there were a handful of people who entered our program with great anger, but once they understood our message, received answers to their questions, and realized our purpose was simply to remove misunderstandings about our own faith, they left with smiles on their faces". Amidst the difficulties faced by this Muslim Community in Kosrae, it was a great stride forward to have such a peaceful and lively event in Pohnpei to simply share the teachings of their faith with others. The Ahmadiyya Muslim Community is currently established in more than 200 countries and holds regular interfaith, Peace conferences and Meet a Muslim events across the globe. Earlier this year a Peace Conference arranged by the Ahmadiyya Muslim Community Kosrae Chapter was held where more than 100 people participated from four different islands.