FSM Continues to combat waste management issues through JICA project
Details

Category: News
Published: Monday, 23 October 2017 13:57
Written by Kpress
Hits: 1276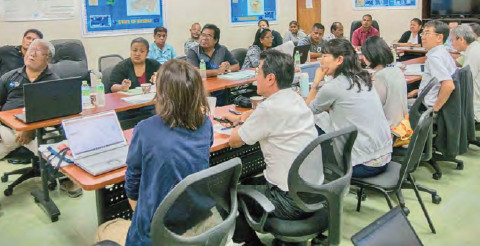 The FSM Office of Environment and Emergency Management (OEEM) in collaboration with the Japanese Technical Cooperation Project for Promotion of Regional Initiative on Solid Waste Management in Pacific Island Countries (J-PRISM) conducted its first Joint Coordinating Committee (JCC) meeting through its phase two program on September 28, 2017 at the OEEM Conference Room. The half-day meeting, chaired by OEEM Assistant Director Cindy Ehmes, brought together State counterparts from the respective Environmental Protection Agencies and Transportation and Infrastructure/Public Works Office in each of the states, national government representatives, JICA, and the Japan Ambassador to discuss the results of a recent waste baseline survey, strategy development, and container deposit legislation systems. The Ambassador of Japan, H.E. Ryochi Horie, presented to the meeting services and funding schemes available to the FSM. As a result of this meeting, the relevant key agencies signed their Plan of Operation (PO) and Project Design Matrix (PDM) to continue collaborative efforts in combating waste management issues under the J-PRISM II Project.
Prior to the JCC meeting, J-PRISM II and the Secretariat for the Pacific Regional Environment Program (SPREP) conducted a Solid Waste Management Workshop on September 27, 2017 to provide guidance on strategy development in reference to the Regional Cleaner Pacific Strategy. A more detailed strategy development session, led by a SPREP Solid Waste Management Advisor, was conducted on the 28th of September after the JCC meeting.
J-PRISM is a five-year project implemented and funded by JICA that is aimed to provide technical assistance in areas of Solid Waste Management. The project is in its second phase and the areas of focus include Collection and Disposal, Strategy Development, and the Container Deposit Legislation. During phase one of the project, the areas of focus included Policy development, Awareness, Landfill Management, Collection and Disposal, and Recycling.