Japan donates money for procurement of tractors to Pohnpei Agriculture
Details

Category: News
Published: Sunday, 19 November 2017 15:55
Written by Bill Jaynes
Hits: 2946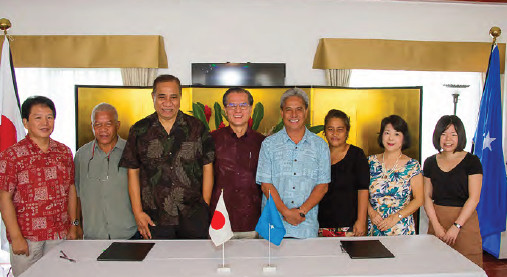 By Bill Jaynes
The Kaselehlie Press
October 31, 2017
Pohnpei—Ambassador Ryoichi Horie of Japan and Pohnpei's Governor Marcelo K. Peterson signed the agreements necessary to mobilize the donation of money for the purchase of two tractors for the Division of Agriculture. The $84,900 donation will also cover three implements for the tractors as well as freight and wharfage.
Governor Peterson thanked the Ambassador and the people of Japan. He said that farmers had often approached him since he became governor asking if the State could once again provide tractors but the State didn't have the resources. Nicholas Solomon, Pohnpei's Director of the Department of Resources and Development said that the tractor the State owns has been broken beyond repair for over a year. He said that he is glad the State will now be able to once again provide the important service for food security for Pohnpei.
Adelino Lorens, Chief of the Division of Agriculture also thanked the Embassy and people of Japan.
During his speech, Ambassador Horie said that he felt that the donation is an important one for the people of Pohnpei. He also spoke briefly about President Christian's recent State visit to Japan during which he met with Emperor Akahito and also with Japan Prime Minister Abe. He said that during that meeting, Abe announced that it would be providing the FSM with approximately $3 million as further grant assistance.
He expressed his disappointment that two previous donations that the Embassy of Japan had provided were overdue for completion and encouraged the Governor and his staff members to be sure that the tractors are purchased very quickly so that they can be put to use right away.