Pohnpei True Value and 11 other sponsors host the 22nd Annual True Value Tournament
Details

Category: News
Published: Sunday, 19 November 2017 16:00
Written by Pohnpei Fishing Club
Hits: 1623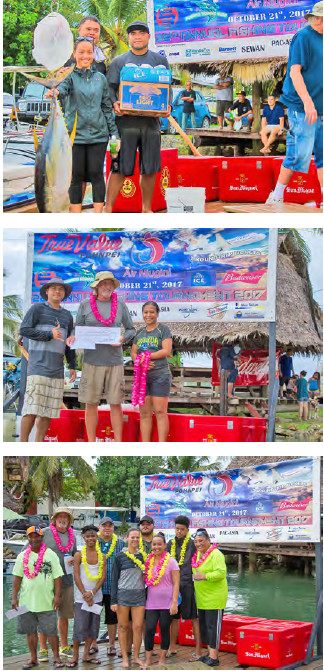 Pohnpei Fishing Club
October 21, 2017
Pohnpei—18 boats along with their captains and crew braved the elements in pursuit of big fish for the 22nd Annual True Value tournament on Saturday, October 21. Plenty of fish were caught, including some large barracuda. The weigh in was conducted at the Dekehtik boat dock.
For 22 years, Pohnpei True Value has sponsored a fishing tournament in Pohnpei. This year the tournament was jointly sponsored by 11 other sponsors as well. The sponsors were Air Niugini, San Miguel, Ambros, Jonquil, Pohnpei True Value, Pacasia, Monje, Hardiflex, Sewan, Barnett, Pacific Islands, International, and Nihon Tekkan.
One of the prizes for the tournament was to have been two round trip tickets to Port Moresby on Air Niugini for the largest marlin caught, but no marlin were caught. Rather than letting the prize roll over until next year, Air Niugini decided instead to award the tickets to Jeannie Hawley who won the big fish prize for her 56.9 pound yellowfin tuna. Hawley also won an 18,000 BTU split type air conditioner from Pohnpei True Value.
Konrad Englberger was the second prize winner with a 30.4 pound barracuda in the biggest fish category. He was awarded a 7.1 cubic foot freezer provided by Jonquil. Englberger also caught the third biggest fish—a 27.1 pound barracuda. Pohnpei True Value awarded him with a Barbecue Grill for that catch.
Gift certificates were awarded for the biggest fish of each species, Junior Angler, and Lady Angler.
The anglers who won the "biggest species" prizes were each awarded a $150 gift certificate.
Izaa Teo won for the biggest yellowfin tuna. Denise Etscheit won for her 17.4 pound wahoo. Welber David caught the largest Skipjack at 16.8 pounds. Konrad Englberger caught a 21.2 pound Giant Trevally. Feleti Teo caught the largest barracuda under this prize category at 15.9 pounds.
Junior Anglers were awarded $100 for their landed fish. Junior Olpet won first place for his 12.8 pound Wahoo. Kekoa Pernet won second place for a 11.2 pound wahoo.
The top lady angler for the tournament was Berno Hedson. She won a $100 gift certificate for her 17 pound Giant Trevally.
Sponsors provided hot dogs and hamburgers for all of the participants, and every boat that entered the tournament received two cases of beer and a large Red Horse cooler.
Many thanks to everyone who helped, including Bill Pendergraft, Tina Albert, and all of the Pohnpei True Value staff members.
Pohnpei Fishing Club's last tournament of the year will be the Budweiser tournament on November 18. Mark it down on your calendars.