Taiwan vessel nabbed in Pacific fisheries surveillance operation Kurukuru
Details

Category: News
Published: Sunday, 19 November 2017 16:03
Written by Kpress
Hits: 1655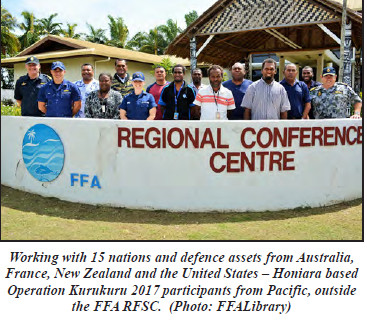 Friday 27 October, 2017:
FFA HQ, Honiara, SOLOMON ISLANDS—Maritime police and fisheries authorities in the Federated States of Micronesia have apprehended and seized a Taiwan purse seining vessel suspected of IUU fishing. The vessel was boarded and inspected by one of FSM's three Patrol boats during Operation Kurukuru 2017, a ten-day Pacific-wide fisheries surveillance operation which ended on Friday, 13 October.
"FSM welcomes the much needed resource and intel sharing of regional surveillance operations such as Kurukuru. These activities add an important layer of support to our national maritime HQ and as we have seen, we want those vessels given the right to fish in our EEZs to take their license conditions seriously, or face prosecution," says Eugene Pangelinan, Executive Director for FSM's National Oceanic Resources Management Authority (NORMA)
"It is effective national action to actually investigate, seize and prosecute or fine violators that justifies regional operations such as Operation Kurukuru and rewards the hard work and effort of coordinated regional support from the Honiara-based Fisheries Surveillance Centre," says FFA Director General James Movick.

DG Movick noted that the incidence of unlicensed illegal boats is now considered only a small part of the regional IUU problem, and more effort is being put into addressing the lack of full and verifiable reporting and compliance by legally licensed boats, which is the biggest part of IUU fishing in the PIC oceanic fishery. "Our message must be consistent: break the rules on our oceans, and you will face the consequences because we have the capability to see and seize you," he says.
Expressing appreciation to all members and partners involved in the annual regional surveillance sweep, FFA Director General James Movick noted the full participation of all 17 FFA members, as well as the added support of defence assets from Australia, France, New Zealand and the United States.
"A noteworthy first for us this year was the use of Australian Air Forces' King Air B350 aircraft which are smaller but more agile aircraft than we normally see deployed in these operations. Flying daily from Honiara, with the crews visiting the RFSC each day and planning their flights at the FFA, we noted the success of their work and welcome their return in future operations. We are very interested to see a long term role for these type of aircraft in regional surveillance in the future," says DG Movick.
Kurukuru operations have been running annually for more than ten years, and since 2009 have been led out of the Regional Fisheries Surveillance centre of the Pacific Islands Forum Fisheries Agency, FFA. It is the largest annual sweep of tuna fishing vessels in the Pacific region.
Operation Kurukuru 2017 involved more than 500 officials across the Pacific, covered more than 21.2million square kilometres of Ocean over a total of 120 at-sea days and 200 hours of flight-hours logged from assets including 12 patrol boats, 15 national maritime headquarters with added aerial and surface support from Australia, France, New Zealand and the US. A total of 480 vessels were detected by optical sensors, 144 vessels were interrogated closely at sea, with a total of 111 boardings at sea and in port.
DG Movick commended Vessel Monitoring Official Manasa Nasilivata of Fiji for his performance as the Chief Of Staff for Operation Kurukuru 2017. The role was created to build capacity for Pacific officers keen to take on the leadership and oversight of regional surveillance operations.
"I enjoyed the opportunity to be amongst the mix of Pacific watch-keepers monitoring tuna fishing activity from the regional angle. We shared the roles of vigilance and sharing information, intelligence gathering and analysis for almost two weeks. The commitment, diligence and professionalism of watch keepers, planners and operational was evident from the moment the operation began until the final day. For me, this was a leading contributor to the success of these regional surveillance actions."
Working with 15 nations and defence assets from Australia, France, New Zealand and the United States – Honiara based Operation Kurukuru 2017 participants from Pacific, outside the FFA RFSC. (Photo: FFALibrary)