Developing Regional Policy to Drive Change for the People of the Blue Pacific
Details

Category: News
Published: Sunday, 19 November 2017 16:17
Written by Meg Taylor DBE
Hits: 1066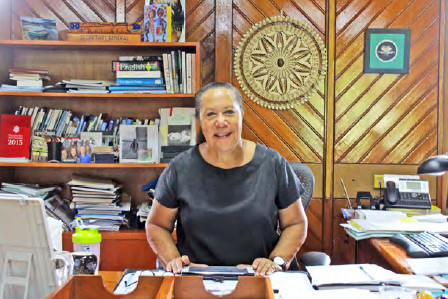 By Meg Taylor DBE
The case for Pacific Regionalism is as strong today as it has ever been.
The well-established fact is that our countries have achieved great things by facing some of our biggest challenges together, rather than individually.
This was recognised by Pacific Islands Forum Leaders when they introduced The Framework for Pacific Regionalism in 2014. The Framework sees coordinated, collective action as a pathway towards a "region of peace, harmony, security, social inclusion, and prosperity, so that all Pacific people can lead free, healthy, and productive lives."
During their meeting in September 2017 in Samoa, Forum Leaders deepened this commitment by endorsing The Blue Pacific as a new narrative for joint political action that calls for working together as one Blue Continent. The Blue Pacific aims to harness our shared ocean identity, geography and resources to develop policies that will drive positive change in our socio-cultural, political and economic development.
An aspect of the Blue Pacific that I particularly like, is its focus on "Pacific peoples, comprising our ocean of islands, who recognise their needs and potential, who plan and own their development agenda, and who can act collectively for the good of all, rather than a few."
Success for regionalism and the Blue Pacific means ensuring that we are the architects of our own futures.
The Pacific Islands Forum is committed to a regional policy agenda that is inclusive, transparent, and owned by its constituents.

Earlier this week the Forum Chair and Prime Minster of Samoa, Hon. Tuilaepa Sailele Malielegoaoi, launched the 2017 Regional Policy Consultations and called on the "people, communities, and organisations of the region to come forward and share their insights and ideas."
I would like to echo that sentiment and encourage everyone to become involved. The Forum Secretariat will be facilitating policy dialogues across the region over the coming months and, as we have done in the past, it is also possible to submit your ideas via letter, email, or our website.
So what are we looking for? Over the last few years the Secretariat has worked hard to facilitate dialogue with the Pacific that considers game changing regional initiatives across all aspects of our development.
To give you some examples, we have looked at options for bulk procurement of HPV vaccines to prevent cervical cancer, joint proposals for climate change related finance, and partnerships to increase the economic, environmental and social benefits for our pelagic and coastal fisheries.
In some instances, these issues may not have been part of the regional policy debate if they had not first been raised during our consultations. For this reason, we keep an open mind and an open agenda. We are interested in hearing your thoughts.
For those who wish to become more engaged in the regional policy discussions I would recommend taking a look at the recent State of Pacific Regionalism Report 2017 published by the Secretariat. The report is intended to provoke discussion around the potential for regional approaches to our many shared challenges.
This year we are also seeking input on a few important initiatives that Forum Leaders have asked us to explore. These relate to security, foreign policy, and sustainable development.
Forum Leaders agree on the value of collective action for regional security due to emerging threats to the region. They see the Biketawa Declaration and other Forum security related declarations as a strong foundation for strategic regional responses in future. They recognise the importance of an expanded concept of security, one that is inclusive of human security, humanitarian assistance, prioritising environmental security, and regional cooperation in building resilience to disasters and climate change. Therefore, the Secretariat will be consulting on the development of a comprehensive 'Biketawa Plus' Declaration that considers these issues.
The Blue Pacific recognises our region as a political resource, an economic resource, and a cultural resource. In considering a Forum Foreign Policy and strategy we are asking ourselves what the priority issues for securing the Blue Pacific might be, and how can Forum Foreign Ministers ensure the solidarity, security, sustainability and prosperity of the Blue Pacific? This is a complex piece of work and again one which we seek a variety of viewpoints on.
All the submissions and input we receive during the consultations will be consolidated by the Forum Secretariat in consultation with Forum members, relevant technical agencies from the Council of Regional Organisations in the Pacific (CROP), and where need be, with other partners of the Forum.
The key issues and themes that emerge will be used to inform regional policy development.
The Specialist Sub-Committee on Regionalism (SSCR) will support the prioritisation of regional policy priorities, specifically using a set of tests for Regional Action set out in the Framework for Pacific Regionalism. The Sub-Committee will then table a report on regional policy priorities at relevant regional meetings for discussion. The report will also be made available for public comment via the Forum Secretariat's website.
Comments will be incorporated into the report by the Forum Secretariat before it is circulated to Forum Leaders for discussion and endorsement at their 2018 Meeting in Nauru.
The Pacific region is unique in offering this opportunity. A chance for all people to contribute to the development of regional policies that will help shape our future. Once again, I encourage you to be involved.
More information is available from the Forum Secretariat website: www.forumsec.org