Pohnpei Rotary Club raises over $11,000 for scholarships and other community support
Details

Category: News
Published: Friday, 15 December 2017 16:11
Written by Pohnpei Rotary Club
Hits: 1626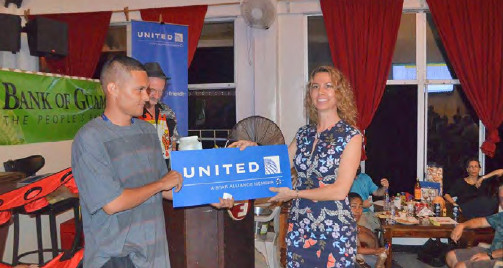 Pohnpei Rotary Club
November 11, 2017
Pohnpei—The Pohnpei Rotary Club's Annual Quiz Night was held on November 11, 2017 at Cupid's Restaurant. It was a rousing success.
21 tables of six players each competed for cash and prizes. Contestants at the tables try to answer basically irrelevant trivia questions. There is a lot of yelling and joking, and then things usually get out of control. If it weren't for the efforts of the brave and selfless moderator, the night would descend into total anarchy.
The top prize was $100.00 per person for the winning table. This year the winners were Nathan Bonnice, Mellyann Mallarme, McClaine Gilmete, Lara Studzinski, Aaron Nighswander and Rob Boylan. Congratulations to these trivia buffs.
The competition was hard fought and there was even a playoff round for second place.
In addition to the trivia competition, there were raffles including a 50/50 raffle and a raffle for lots of goodies donated by our sponsors. There were also a few auction items that could be bid on and won.

A highlight of the evening was the drawing for the raffle of two round trip United Airlines tickets to locations in Micronesia and Asia. That was a big win for a $5.00 ticket. There were 500 tickets sold. A United Airlines representative pulled out the lucky tickets at quiz night. The lucky winners were Frankie Harriss and James Harry.
Thank you United Airlines for the sponsorship.
We want to thank all those in attendance for their generous support to all of the activities going on. For the Rotary Club this is our biggest fundraiser of the year. The Rotary Club in conjunction with Vital Petroleum awarded $20,000.00 in college scholarships for this school year, and Rotary also has a separate scholarship program where it awarded $12,000.00 in college scholarships this year. The scholarship programs are ongoing and a large portion of the money raised will go to the scholarship programs.
We are also involved in public service programs. We just recently gave sporting goods equipment to Pingelap, and the club helps to organize the annual spelling bee for local Pohnpei elementary schools. A new program we are to starting to assist is to combat rheumatic heart disease in Pohnpei, which is a serious problem. We are looking at purchasing some testing units to diagnose this problem in grade school children. The most recent testing was in Kitti.
All in all we want to let people know the money you generously contribute is going to be well spent.
Additionally, we cannot do this type of fundraiser without support from a lot of sponsors. I want to thank all of our sponsors who made this evening a success:
United Airlines, Petrocorp/VITAL, Bank of Guam, Alison MacConnell , Ace Office Supply, Genesis, Seven Star, Ambros Inc./Shimbros, Inc./Budweiser, Pohnpei True Value, Western and Central Pacific Fisheries Commission, Movie Land, His Excellency Peter Christian, MRAG, Drops of Life, LP Gas, Pohnpei Surf Club, Pohnpei Transfer & Storage (PT&S), The Kaselehlie Press, Blue Nile, Moylan's Insurance, Rusty Anchor, Caroline Fisheries Corporation, Pohnpei Napa Auto Parts, Good News Press, CTSI, Ace Hardware, MRA, Perfume & Things, BMC, Eliza Woolcock & Jac Steiner, Chris Johnny O"Keefe and Jade Ford, Bank of FSM (BFSM), Etscheit Enterprises, MERIP, Pohnpei Hardware, Palm Terrace, Joy Hotel & Restaurant, FSM Development Bank, Ivory Nut House, Australian Embassy/ Hon. George Fraser, Pohnpei Fishing Club, COM-FSM, Island Palms Hotel, Mellyann Mallarme, Micronesia Japan Cultural Exchange Association, Embassy of the People's Republic of China, FSM Telecommunications Corporation, National Fisheries Corporation, Lisette Yamase , Building Solutions, MATSON
We also want to thank the staff and management at Cupids for all their help in putting the event on, along with all the members of Rotary Club who put in extra effort beyond the call of duty to make this evening a success. All told, the raffle, donations and quiz night itself raised just under $11,000.00. It was a great evening and a beneficial one also. Thank you to everyone.
We also sell calendars for 2018 for ongoing projects.