Good fish landed at 14th Annual Budweiser Tournament
Details

Category: News
Published: Friday, 15 December 2017 16:29
Written by Kpress
Hits: 1137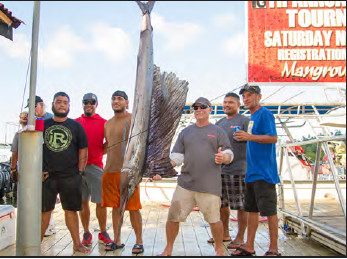 For several days before the 14th Annual Budweiser Tournament, the weather had been threatening to be too dangerous to have a fishing tournament. But at the dawn of November 18, the sun rose bright and clear. The 16 boats that registered were rewarded by fair weather and a fair number of good sized fish.
Each boat that registered and that came to the weigh in received a case of Budweiser and free t-shirts for the crew. Thanks Budweiser and Ambros, Inc.
The format was a Catch-5 where the boats competed against each other to land at least one of each of the following species, Billfish, Mahi Mahi, Wahoo, Skip Jack Tuna and Yellow Fin or other tuna.
Only one boat managed to catch all five. The same boat caught the only qualifying billfish of the day, a 70.5 pound sailfish. Congratulations to Happier Hookers captained by Kumer Panuelo.
With a total of 139.6 pounds of fish and five species caught, "Happier Hookers" grabbed the first prize worth $400. "Pohnpei Surf Club" pulled in three species for a total weight of 82.2 pounds of fish and the $300 second prize. "Happy Tuna" also landed three species for a total of 53.1 pounds for the third prize of $150.
There were also prizes for the biggest fish of each species. Each of those anglers won a $100 prize for their catches. Allois Malfitani landed the largest Yellow Fin Tuna at 57.3 pounds. Kumer Panuelo's 14.6 pound Mahi Mahi scored him a prize. Thomas Beckman got a Skip Jack that was also 14.6 pounds for a win in that species category. Kumer Panuelo also scored a prize for his 70.5 pound sailfish. Dane Nighswander continued his series of wins with a 27.1 pound Wahoo.
Congratulations to all of the winners. Many thanks to Mangrove Bay for hosting the weigh in, and to all of the people that helped: Bill Pendergraft, Francisco, Tina Arnold, Uta Krause, Jim Tobin, and all of Kumer's guys. We couldn't do it without you.
The library raised over $900.00 this year from hot dog and sausage sales at the weigh in. Some of the books bought for the library were on display. Pohnpei Fishing Club is a proud sponsor of the library.
Many thanks to our sponsors Budweiser and Ambros/Shimbros.
I am sure we will be seeing a lot of people proudly wearing the shirts around town.
This is our last tournament of the year. Happy holidays to all fishermen and women.
The Annual General Meeting will be set some time in January, and we have a full lineup of tournaments scheduled for next year.
See you then.