Two FSM citizens sworn in to practice law in Guam
Details

Category: News
Published: Friday, 15 December 2017 16:36
Written by Bill Jaynes
Hits: 4941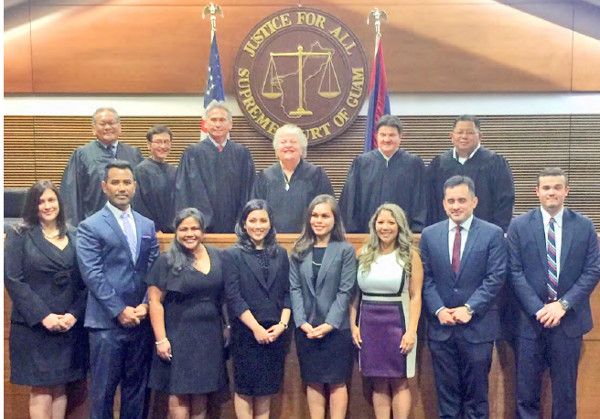 By Bill Jaynes
The Kaselehlie Press
November 23, 2017
Guam—Two FSM citizens originally from Chuuk have recently earned the right to practice law in Guam after they passed the exam that allowed them to be admitted to the bar in that jurisdiction.
Debrah Ann Mori Retuyan earned a Bachelor of Science in Criminal Justice with a Minor in Public Administration at the University of Guam. She later attended Thomas M. Cooley in Ann Arbor, Michigan where she earned a Juris Doctor. Retuyan interned at the Embassy of the FSM in Washington D.C. after which she returned to Guam where she currently works in the Prosecution Division of the Office of the Attorney General of Guam.
Maximo Mida spent his early years on Wonei and Udot before he moved to Pohnpei where he attended first through sixth grades at Kolonia Elementary. His family moved to Hawaii in 1986. He graduated from Mililani High School there. He enlisted in the US Coast Guard after High School where he became one of the services elite helicopter rescue swimmers. At the school he "learned that nothing is impossible to achieve if you put your mind to it," he said.
While in the Coast Guard, he earned a Bachelor of Arts degree in History and Political Science from Chaminade University in 2008. Retiring honorably from the Coast Guard after 20 years he then graduated in 2017 with a Juris Doctor from Thomas Jefferson School of Law in San Diego.
He has passed both the FSM and Guam bar exams and currently works at the Law Firm of Ramp and Mida.
He says that he has two beautiful children, four year old boy named Makai and a four month old baby girl named Meraki. He is currently engaged to be married to Agnes Billimon.