Pohnpei sidewalk project from SDA to the airport is under way
Details

Category: News
Published: Thursday, 21 December 2017 15:21
Written by Bill Jaynes
Hits: 2389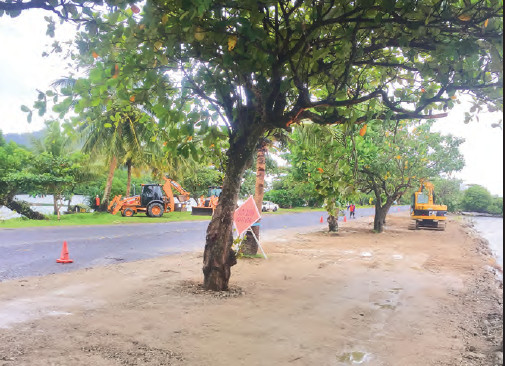 By Bill Jaynes
The Kaselehlie Press
December 14, 2017
Pohnpei—Health and safety are two of the reasons that beginning with the 19th FSM Congress, the Pohnpei Delegation began to sponsor bills to improve infrastructure for pedestrians in their home State. It's taken a while for the paper work, approvals, and bids to be processed but work has now begun in earnest on constructions of sidewalks stretching from Seventh Day Adventist School, through Kolonia Town, and continuing on down the causeway.
Regional consultants have long said that one of the keys to combatting non- communicable diseases such as diabetes and obesity related illnesses is exercise, and that walking is an excellent form of exercise. The new walkway will provide a safe place for people to walk without having to go around in endless circles as so many committed people currently do at the PICS track.

Senators Ferny Perman and Esmond Moses said that when they were scouting the additional potential for a sidewalk in Palikir the safety component of the sidewalk became crystal clear. They witnessed the moment when a woman who was talking on her cell phone while driving hit a young boy who was walking on the street. They said that the boy was in a coma for four days. He is in the third grade.
The 20th Congress also recently approved an allocation sponsored by members of the Pohnpei Delegation to complete the sidewalk all the way to the airport. That portion of the project is not yet ready for the bid process.
Though streetlights currently exist on the causeway, plans are in place to also provide solar powered lighting for the new walkway.
The walkway will be raised and built over drainage culverts that will stretch the length of the causeway to mitigate the effects of flooding during heavy rains or exceptionally high tides.
In order to help keep pedestrians safe, there will be a buffer area between the roadway and the walkway to help prevent the possibility that notoriously fast drivers on the causeway will cause them harm. There currently is no buffer. Walkers are left to their own devices to try to keep themselves safe.
VCS won the bids for the sidewalk project from SDA through to the intersection at the Botanical Gardens and also a large portion of the project on the causeway. ACE Construction won the bid for the sidewalk from the botanical garden up to the Tuna Commission.
VCS is currently working on building up areas of the causeway where the sidewalk will go. The company is also currently finishing up a sidewalk project that runs alongside the short road leading to and from the causeway. That project is a variance on the original project to widen the road that was completed earlier this year.
VCS is also working on an additional Congress funded project to build a road behind the Moylan's building in front of the Pohnpei Legislature that will also have a walkway.