Kosrae Boxing Club stages first ever boxing tournament in Tofol
Details

Category: Sports
Published: Thursday, 21 December 2017 15:32
Written by Bill Jaynes
Hits: 917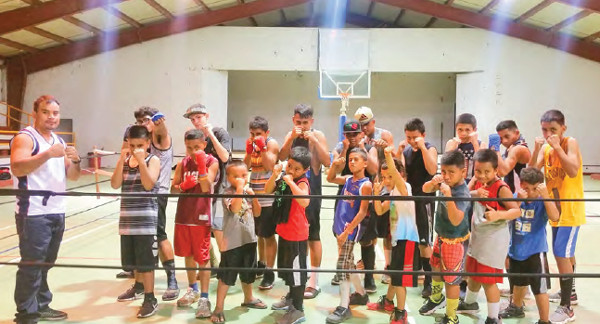 By Bill Jaynes
The Kaselehlie Press
December 8, 2017
Tofol, Kosrae—The fledgling Kosrae Boxing Club held its first boxing exhibition at the Kosrae Tofol Gym after just one year in existence.
Founder and President, Greg Ribauw said that the President of the Pohnpei Boxing Club, Mr. Erick Divinigracia helped the club in preparing its bylaws and other details. The club now has 23 members and seven directors on the Board of Directors. It has been operating since December of last year.
13 year old Murson Ribauw, one of the clubs athletes will be leaving Kosrae to return home to Nauru so club members decided to hold the exhibition both as a way of saying goodbye but also as a way of showcasing all of the athletes' capabilities and as a means of raising funds for the club.
They are hoping for bigger and better things and have taken to seeking donations from local businesses, the Kosrae Congress, recently have used Fundrazr.com as a medium for accepting donations worldwide. They hope to one day have new equipment, their own training venue and a real boxing ring. During the exhibition match, the club raised $150 which is a start. One of the spectators also donated two brand new 16 ounce boxing gloves and two mouth guards after the exhibition.
Ribauw says that his son in law, DJ Maaki of Nauru is the coach and trainer for the club. Maaki is a former boxer with a great deal of experience in the sport throughout the world. In 2010, he won a silver medal at the Oceania Championship in Canberra. That same year he also won a silver medal at the World Youth Olympics in Singapore in the flyweight division. The club was able to send one of its athletes, Dalton Kihleng to Pohnpei for the Liberation games in September to participate in the local boxing tournament there. Funding for the travel and accommodation for both the coach and the athlete was made possible by Bruce Kihleng and the Kosrae State Congress. Kihleng lost by decision but Ribauw says it was a great first time experience for Kihleng and for the club.
Ribauw says that the club currently doesn't have a permanent venue for training. The club uses property outside of Ribauw's house in Malem for their daily practice sessions. When it is raining they use the track and the Kosrae gym for practices. He says the club started with used equipment such as gloves, skip ropes, mouth guards and boxing pads.
Ribauw says that the club urgently needs donations to help their athletes along their path of success. On Facebook, lookup Kosrae Boxing Club to contact them.