Pohnpei's longest serving teacher set to retire after this school year
Details

Category: News
Published: Thursday, 04 January 2018 09:01
Written by Bill Jaynes
Hits: 2181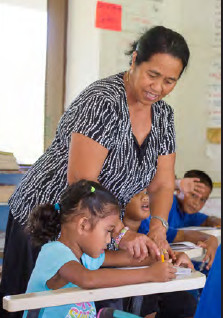 By Bill Jaynes
The Kaselehlie Press
December 19, 2017
Awak, U, Pohnpei—Lolihna Edward-Ladore has lovingly taught first graders at Awak Elementary School for over 37 years. She currently has 19 students in her class room who, from all appearances during our short time in her classroom, respect and adore her.
During her lengthy career she has taught approximately 800 students. One of those students was Peter Ramirez. As principal of Awak Elementary School, Ramirez is now Ladore's boss.
She says that she currently has students in her class whose parents and grandparents were also her students. When her students and former students see her on the streets they call out to her, "Hey! Hi, my teacher! I can see their faces but I can't always remember their names," she says, but it is apparent that she loves them all.
She couldn't pin down any one particular happy memory during her years of teaching. "When I see the kids, I'm really happy to see them. Sometimes they make me happy. Sometimes they make me sad but I always make them happy," she says.
Clarifying, she said that sometimes children come to school but they are sad to be there because of problems of some kind at home. She wants them to be happy to be at school and learning with friends and works with them until they are.
Her classroom walls are covered with so much information. Want to know what 9+3 is? You can find the answer on her blackboard. Can't remember how to count to 100? A large hand written chart on her wall can remind you. When we were there she took time with individual students to answer questions about a paper they were working on. Though they squirmed excitedly as first graders do and were distracted by my presence in the classroom, Ladore never lost patience with them as she went from desk to desk praising and encouraging them. She said that when she first started as a teacher in 1980, lesson plans were done on a day by day basis. Now lesson plans are due every Friday for the following week. She says it's a lot of work but that it makes much more sense. "It's easier to know where you're going with a plan." It's also easy if a substitute teacher is called in to teach a class due to illness or other reasons.
She said that she also has more resources for teaching now than she did when she started as a new teacher during the FSM's Trust Territory days after she graduated with an Associates Degree at the Community College of Micronesia. She says that although not every child has a text book there are "enough" to get the job done.
As much as she loves teaching, she says that she is also looking forward to retiring.