New Pohnpei dive operation could attract more dive tourists to Pohnpei's beautiful dive sites
Details

Category: News
Published: Thursday, 04 January 2018 09:12
Written by Bill Jaynes
Hits: 2216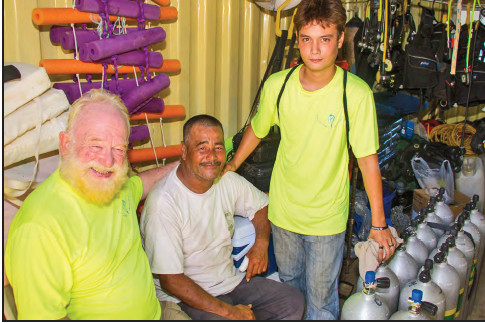 By Bill Jaynes
The Kaselehlie Press
December 22, 2017
Pohnpei—A new scuba diving services business in Pohnpei is poised to have an impact in Pohnpei well beyond the personal impact on the new proud owners. Laidenki Diving and Tours is in the final stages of the approval process to operate as an official PADI dive business. When that happens, and owners John Ranahan and Anter Joseph along with two of their grandchildren say that it is imminent, Pohnpei will be listed in PADI's international data base as having a dive operation that functions according to PADI's strict requirements. It could mean the possibility of divers coming to Pohnpei who might not otherwise have thought about it.
And Pohnpei has excellent dive spots. Internationally known dive tour operator, photographer, and author, Tim Rock of Guam said during a conversation several months ago about his book "The 50 Best Dives in Micronesia" (which can be purchased on Google Books and elsewhere) that Pohnpei is one of his favorite places to dive. He said that he dives here whenever he can. The conversation with Mr. Rock was not at all associated with the Laindenki Divers business which at time was only a vague idea in the owners' minds but did speak volumes about what Pohnpei has to offer to divers.

Ranahan said that Laidenki Diving and Tours is all about safety. Medical oxygen, medical kits, safety sausages, and other safety devices along with personnel who are trained in medical first response are on each of their excursions. Laidenki also meets PADI's requirement for a dive professional of a specific high level of training to be part of each trip.
Just a few weeks ago, Ranahan, who first started diving in the quarries outside of Cleveland, Ohio in 1961, recently completed his 1000th dive. He is a Master Scuba Instructor.
"You know what got me into scuba diving?" Ranahan says with a playful grin. "Sea Wolf! You remember Lloyd Bridges in Sea Wolf? I thought he was so cool." After his early dive excursions in the cold dark waters of the quarries, Ranahan took a break from diving until 1995. After spending a lot of time and a lot of time a little bit at a time , he accrued hundreds of hours of underwater time and is now a Master Scuba Instructor. He said that he did his first dive in Pohnpei in 1996.
Laidenki is currently operating with a temporary PADI store number until their physical building at the beginning of the causeway is completed. Then they will send the final photos of the structure to PADI and then will likely be given a permanent PADI authorization.
Ranahan says that Laindenki Diving and Tours is also a DAN (Diver's Alert Network) world business. DAN is a nonprofit scuba diving and dive safety association providing expert medical advice for underwater injuries, emergencies, and insurance for divers.
Ranahan and Anter Phillip have put their money into the business while grandchildren John and J.R. have provided "sweat equity". All are divers. Though Ranahan has the most experience, all are working on qualifications for higher levels of dive certification. All are sufficiently experienced for the business they are operating.
The business provides weekly dive trips, PADI Scuba Instruction, Gear Rental, Dan World Business, Boat Rentals, Marine Tours, and Kayak Rentals. They also are an official Mares scuba diving equipment dealer.
Their equipment is meticulously maintained after each dive and in between. Standing next to one of their storage containers on the day that we talked were a few dozen scuba tanks that Ranahan said were being prepared to ship off island for "air quality testing". He said that he is not aware of any other dive operator in Pohnpei that is going to those kinds of lengths but that he intends to continue doing that on a scheduled basis.
Laidenki Diving and Tours offers certification services up through the level of Dive Master. They have basic open water certification classes and even more basic "Discover Scuba" classes in which participants have classroom instruction in scuba diving and then participate in a dive all in one day. They offer Advanced Open Water certification, Emergency First Response training, Dive Master, Master Scuba Diver, Deep Water and Night Dive training. Classes also include drift diving, underwater naturalist, fish identification, and others.
Ranahan says they are also establishing a Diver's Den of sorts on the premises of their business. He said he hopes that the "picnic spot for divers" will become a sort of community hang out for divers but if nothing else it can be a place for divers returning from a trip to sit and debrief their day.
The business has a 24 foot and 27 foot boat and also offers boat excursions including trips to the Ahnd Atoll marine preserve.
Ranahan said that he is thinking that he will work with Laidenki Diving and Tours for a few years and then retire at which point the business will be fully owned by Pohnpeians.
Look for good things from Laidenki Diving and Tours.