College celebrates 66th Commencement Exercises
Details

Category: News
Published: Thursday, 04 January 2018 09:15
Written by COM-FSM News
Hits: 1511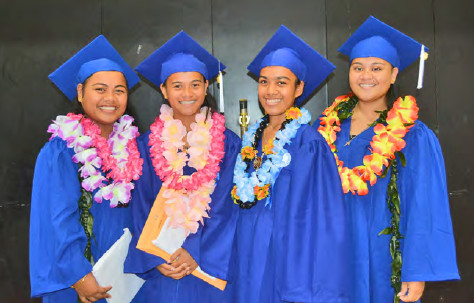 COM-FSM News
December 18, 2017
PALIKIR, FSM — The College's 66th C o m m e n c e m e n t Exercises was celebrated on Friday December 15, 2017, at 9:00 A.M. in the Main Gym of the FSM China Friendship Sports Center.
Over 500 attendees from the community and dignitaries were present to see the marching of the graduates.
College President Joseph M. Daisy Ed. D. gave welcoming remarks, while FSM Postmaster General, Ms. Ginger P. Mida was this year's commencement speaker.
The Conferring of Degrees was presented by Board of Regent Chairman, Dr. Tulensru Waguk of Kosrae.
Among the 179 graduates from National and Pohnpei campuses, nine graduated with a Bachelors of Arts in Elementary Education and four graduated with a Masters Degree in Education from the University of Guam. A total of 209 students graduated from all six campuses of the college.
Anjannet Fredrick presented the valedictorian address, while Reileen B. Joel was Salutatorian.