World champion kick boxer and boxer intends to train motivated winners in the FSM
Details

Category: Sports
Published: Wednesday, 24 January 2018 17:55
Written by Bill Jaynes
Hits: 1329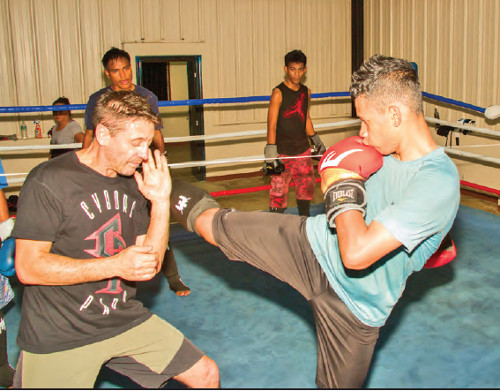 By Bill Jaynes
The Kaselehlie Press
January 11, 2017
Pohnpei—For a couple of weeks now, members of the Pohnpei Boxing Club have had the distinct honor of being trained by World Champion boxer and kickboxer, Andrea Galbiati. During his fighting career Galbiati earned seven championship belts: five titles in his native Italy, one European title and culminating in 2009 as a world champion full contact and kickboxer with the WFC (World Fighting Championship).
He says that for the last 10 years he has been training boxers and kickboxers from several gyms in the New York area, including the world famous Gleason's Gym in Brooklyn, Muhammed Ali's favorite place to train when he was in New York. Over 130 world champions have trained at Gleason's including Mike Tyson. Galbiati says that during the last 10 years, he has trained fighters who have competed all over the world, including at the largest US venues including in Las Vegas and at what once was the principal headline fight venue in the world, Madison Square Gardens. He is currently training 10 professional fighters.

He is currently in Pohnpei to identify serious boxing contenders in the right age range in order to build a small FSM team to train on a concerted basis to win Gold at the Pacific Games in 2019 as a first step. Gold medal winners at the Pacific Games can qualify for the Olympic Games in 2020 in Tokyo and that's where he wants to see talented and well trained FSM boxers.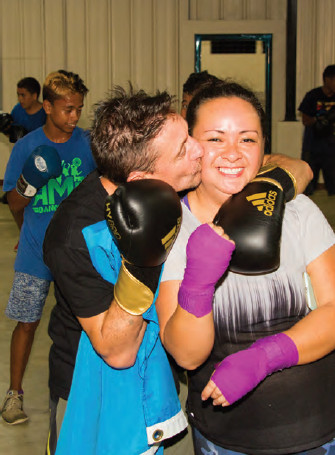 "I'm all about winning," he said. "I only want boxers who want to win… none of this, 'If I win I get to go to the Olympics, if I don't, I'll get (get an invitation and get) to go anyway', stuff. I want serious winners," he exclaimed.
He said that Jennifer Chieng approached him at another gym in New York where he trains fighters and asked him to train her. It was the first time he'd heard of the FSM. He coached her to a Golden Gloves victory in 2015 after only one year of training. That same year she won a gold medal at the Pacific Games.
Later he met Erick Divinigracia, President of the Pohnpei Boxing Club when he accompanied Chieng to an Olympics qualifying match in China. Galbiati and Divinigracia started talking about the possibility of collaborating to build a small boxing team in the FSM.
They met again in Rio de Janeiro for the Olympics where Chieng lost her match by a narrow decision against a taller competitor with longer reach and several years more experience.
Galbiati's current trip to Pohnpei was sponsored by Adidas. He plans to be in Pohnpei at least three times a year to continue to groom fighters for a possible Pacific Games bid. Both Divinigracia and Galbiati said that they have both identified potential candidates but don't want yet to name names.
Galbiati said that with ongoing training in Pohnpei and then some intensive training in New York there are some currently raw fighters who stand a good chance of becoming champions.
"Although there are many amateur coaches that come to the FSM to help train certain athletes for competitions, there are none that are World Champions or Continental Champions that have the many accolades that Andrea has," Divinigracia wrote in an email. "With his assistance it is very feasible to train a boxer now who could qualify for the 2020 Olympics. It wouldn't take much assistance from the FSM to do so. They would only need travel costs for Andrea to travel to the FSM a couple of times a year where his accommodations and expenses will already be covered by staying with a host family. Then there would be the cost of sending one or two boxers to New York for a month once or twice a year to train with Andrea where he is willing to host the boxers at no costs, which is a pretty good trade off."
Galbiati said that he will take care of accommodations, gym fees and other expenses except for travel for FSM boxers who are selected to intensively train with him in New York.
Galbiati doesn't charge to train his fighters except for those who go pro and then it is a matter of a standard percentage of fight purses. He said that he doesn't do it to be a nice guy. "90 percent of it for me is to win. I like to train winners," he said.
"People don't remember me because I'm a nice guy", he said. "People remember me because I have seven belts."
They also remember him because he trains winners and he hopes to train winners from the FSM.
Both Galbiati and Divinigracia reiterated that donations for training winners are constantly needed. "Everyone wants to help when it's time for the games," Giabata said, "but what about during the time it takes to train?"