FSM Women's Council's plan for improvements in gender equality
Details

Category: News
Published: Thursday, 15 February 2018 02:59
Written by Bill Jaynes
Hits: 1117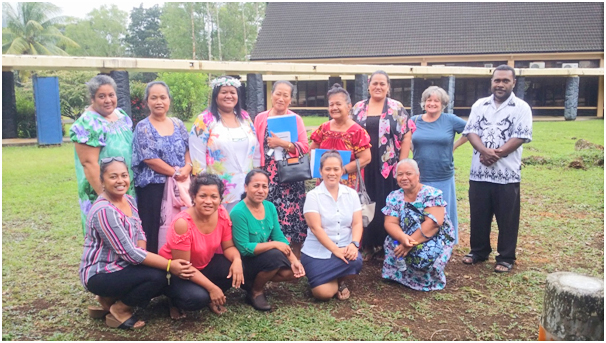 January 18, 2018
Representatives from each of the four FSM States Women's Councils met in Pohnpei from January 15-18, 2018 for a workshop aiming to strengthen the Councils' work in promoting gender equality.
The FSM Department of Health and Social Affairs office (DH&SA) teamed up with the Pacific Community (SPC) to design the workshop, which was also supported by the nature conservancy (TNC).
The workshop provided support to the first meeting and election of directors of the FSM women's council.
To strengthen capacity, the state councils reported on their own priorities and worked together to develop a shared vision for the FSM Women's Council. Participants learnt about key commitments made by FSM to gender equality and practiced new techniques to raise the sensitive issue of gender equality in their workshops and meetings in their states.
The workshop also provided an opportunity to start planning the FSM government-hosted National Women's Conference, to be held in Palikir later in 2018.
Opening the meeting, the acting Secretary of DH&SA Mr. Marcus Samo, noted with appreciation the importance of the work the Women's Councils undertake for the development of FSM. He stressed that it is time to attend more to the commitments FSM has made to gender equality, and committed the department to working with the FSM Women's Council and the Women's Councils in the states.
In their reports to the meeting, the Councils noted their similar challenges such as getting support within their states to introduce domestic violence legislation, raise the age of consent, get services for victims of violence, and get women elected to the state legislatures and the Congress. At the same time, they have committed themselves to home gardening and other projects which improve the livelihoods of women and their families in ways that support environmental sustainability. The Councils noted they are expected and want to do more, but limited funding and support is holding them back.
The director of SPC's Micronesia Regional Office, Lara Studzinski, said "SPC has a strong commitment to gender equality and human rights work across the Pacific, and, through the generous support of the Australian Government's Pacific Women program, we will continue to support the work of the FSM government to improve gender equality and women's rights in Micronesia."