Interior announces $12.8 million for Hawaii in 2018 Compact Impact funding
Details

Category: News
Published: Thursday, 15 February 2018 02:59
Written by Bill Jaynes
Hits: 593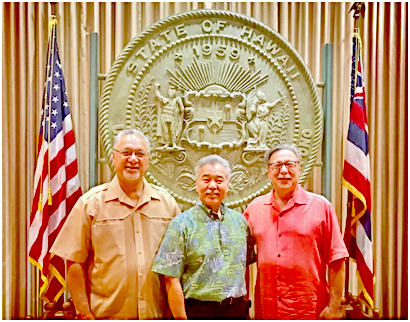 OIA Director Nik Pula, Hawaii
Governor David Ige, and
Assistant Secretary for Insular Areas
Doug Domenech December 14, 2017
WASHINGTON (January 19, 2018) – U.S. Department of the Interior Assistant Secretary for Insular Areas Doug Domenech has announced that $12,762,262 will be Hawaii's share of 2018 Compact Impact funding provided under U.S. Public Law 108-188. The funding will be provided to the Department of Human Services to help defray costs associated with providing education, public health, and public safety-related services to migrants from the freely associated states of Micronesia, Marshalls, and Palau who have migrated to Hawaii.
"I met with Governor Ige last December and am pleased that we can provide some assistance to Hawaii on behalf of the federal government," said Assistant Secretary Domenech. "During the meeting, I was pleased to hear that other assistance provided to Hawaii by Interior's Office of Insular Affairs in standing up the 'We Are Oceania' One Stop Center has been helpful to the Governor and his administration in minimizing the impacts on Hawaii from migration from the freely associated states as well as in serving Micronesian community needs."
Under the Compacts of Free Association first approved in Public Law 99-239 (1986) and Public Law 99-658 (1994), and later amended in Public Law 108-188 (2003), citizens of the Federated States of Micronesia, the Republic of the Marshall Islands, and the Republic of Palau are legal nonimmigrants allowed, for indefinite periods of time, to live, work, and study in the United States without a visa. In 1996, under the Personal Responsibility and Work Opportunity Reconciliation Act ("Welfare Reform Act"), nonimmigrants living and working legally in the United States under the Compacts were deemed ineligible for federal public benefits. Thus began what has been a rising concern for the Governments of Guam and Hawaii, as U.S. ports of entry in the Pacific, which have directly borne the cost of public services related to migration under the Compacts, often referred to as "Compact Impact."
In 2003, the U.S. Congress allocated $30 million annually to Hawaii, Guam, the Northern Mariana Islands, and American Samoa to assist in defraying costs due to increased demands placed on health, educational, social, or public sector services, or infrastructure related to such services due to Compact Impact. Compact Impact funds and the apportionment to each affected jurisdiction are calculated using a ratio allocation based on a 2013 U.S. Census Bureau enumeration that put the number of Compact migrants in Hawaii at 14,700 and the allocation for the state at $12.8 million. The U.S. Census Bureau will be conducting a new enumeration, to update the numbers used in the allocation of Compact Impact funding, expected to be completed at the end of this year.
Under current law, Compact Impact funding expires in 2023.