Improving diagnostic capability in the FSM through tele-pathology application
Details

Category: News
Published: Thursday, 15 February 2018 02:59
Written by Bill Jaynes
Hits: 1070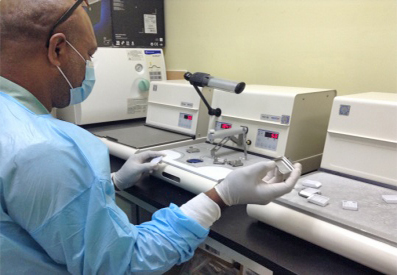 Mr. Saimone Vameau embedding
tissue biopsy at work
From December 2-8, 2017, Dr Katsushige Yamashiro, the chief pathologist from the Hokkaido Cancer Institute (HCI) in Sapporo, Japan, visited Pohnpei to provide hands-on training in cytology and histology to the technical staff of the labs in all FSM state hospitals. The training took place at Pohnpei State hospital where the FSM tele-pathology lab is currently housed.
Tele-pathology application involves sending digitized image of specimen from Pohnpei to Dr. Yamashiro in HCI for consultation and diagnosis. The receiving pathologist evaluates the virtual image with the local histotech, and provides diagnosis back to medical doctors in Pohnpei for patient management. Because of the increase in Internet bandwidth at Pohnpei State Hospital, this application is possible and also allows technician at Pohnpei State Hospital and the pathologist at HCI to simultaneously perform and evaluate digitized pathological image of specimen in real time. Whereas the routine sending of histopath specimen off-island would normally take 2 weeks to 3 months for a turn-around result, this technology can provide a spot diagnosis within minutes of consultation.
The Lab technicians from the four States were able to get first-hand experience of tissue biopsy and Pap smear processing. They received basic training in the procedures of histo/cyto-pathology in this few days of the training. Together with Dr Katsushige Yamashiro, the technicians we were able to process the backlog of specimen and tissue biopsy. During the training, Dr. Yamashiro was not only able to provide the training but was also able to read and provide diagnosis to the doctors.
A few weeks after the training, the lab technician at Pohnpei State Hospital was able to process the backlog of 235 Pap smear specimens from Chuuk at the Pohnpei State Hospital. Given the vast geography of the FSM and limited resource, pursuing a tele-pathology is necessary. Funding for this project is provided by the FSM Government though the Department of Health and Social Affairs as a national capital improvement project.