Taiyo Micronesia holds ribbon cutting ceremony for fish meal and dried skipjack plant in Dekehtik
Details

Category: News
Published: Thursday, 15 February 2018 04:02
Written by Bill Jaynes
Hits: 1685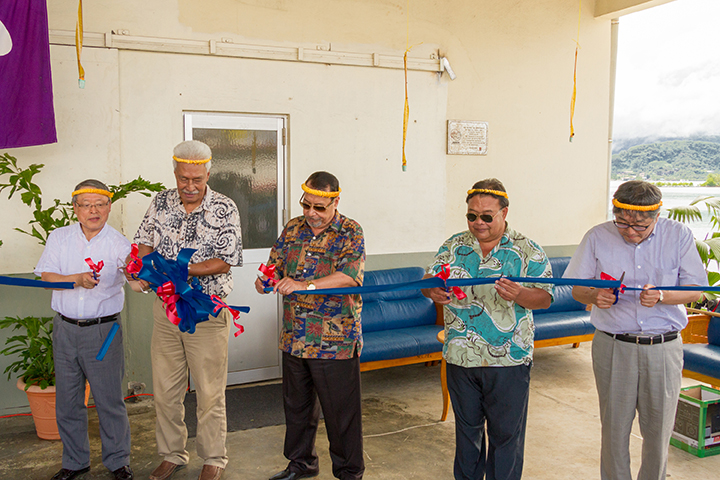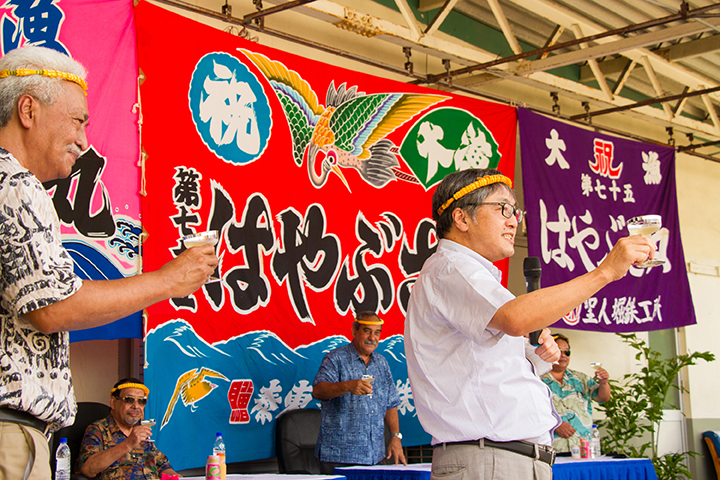 By Bill Jaynes
The Kaselehlie Press
February 2, 2018
Pohnpei—Taiyo Micronesia Corporation (TMC) held a ribbon cutting ceremony in Dekehtik this afternoon for a "katsuobushi" (dried, fermented, smoked skipjack tuna) and feed meal processing plant on the premises of the cold storage plant.
National Fisheries Corporation (NFC) CEO Peter Sitan said that the plant is not yet in commercial operation pending approval of some permits that are in process. It is also awaiting the arrival of a larger feed mill that he said should arrive within two months. He said that the plan then would be to produce and sell feed meal in the local market first in Pohnpei and then potentially in the other states. He said that the feed for livestock would be less expensive than imported feed. Katsuobushi, a quintessential topping in Japanese cuisine would be primarily for export.
The plant is a TMC and NFC joint venture. Sitan said that the plant currently employs 10 local employees but that after it is in full operation will hire 10 more employees.
Among others, FSM dignitaries at the ceremony included FSM President Peter M. Christian, FSM Resources and Development Secretary Marion Henry, Lieutenant Governor Reed Oliver as Acting Governor, Pohnpei Legislature Speaker Fernando Scaliem, and Iso Nahnken of Nett Salvador Iriarte.
Mr. Shigeru Ito, President of the Maruha Nichirio Group, the parent company of TMC gave remarks. The Maruha Nichirio Group that Mr. Ito runs has 160 companies under its umbrella including TMC. He said during his remarks that when TMC first started its business in the FSM in conjunction with NFC six years ago, it had only two purse seiners but that they now had six FSM flagged vessels.
Mr. Nobuyuki Wakasa, TMC President said that several years ago, Secretary Henry told him that while it was good to have fishing operations, the company should seriously look at on shore operations. Wakasa said that the company started to consider the possibility and conducted feasibility studies. The katsuobushi and feed meal plant was the result of their studies. Other potential ventures that they looked at were not financially feasible.
Sitan later said that one of the difficulties with conducting industrial businesses in the FSM was the high cost of power as compared to other international locations.
Before the ribbon cutting for the new plant, Iso Nahnken Salvador Iriarte gave traditional closing remarks. While mentioning that the venture did not yet have a Nett District business license, he welcomed the new venture to Nett. He repeated a message he has given before encouraging the business owners to operate with respect (wahu), responsibility (pwukoah), and honesty (mehlel).
Wakasa and NFC Board Chairman Stoney Taulung each offered toasts for the success of the new plant.
Iso Nahnken of Nett Salvador Iriarte, Marua Nichirio Group President Shigeru Ito, Acting Governor Reed Oliver, Secretary Marion Henry and TMC President Nobuyuki Wakasa participated in cutting the ribbon for the new processing plant after which tours were conducted of the plant. Afterward, interested people could take a tour of the not quite completed plant.
Later Sitan said that when the feed meal plant is operational it will be able to handle fisheries by-catch, the non-targeted fish that are caught by purse seiners and long liners, and that would eliminate some of the waste.
Sitan was not fully versed on the details on how waste water from the plant would be handled in order to avoid introducing reef killing nutrients into the ecosystem but said that the factor had been considered and that there would be little to no impact.
At press time, KPress had not yet been able to follow up on that matter with EPA or other entities that might know how that the waste water would be handled but will attempt to do so for the February 26 issue.
Sitan also said that TMC had previously thought that their Foreign Investment Permit with the National Government that covered their fisheries operations would also cover the new shore based plant. He said that Secretary Henry told them that even though he had asked the company to conduct onshore business the new business venture would require a foreign investment permit from the Pohnpei State Government. Sitan said that paperwork is in process.