Australian Embassy to the FSM hosts Australia Day celebration
Details

Category: News
Published: Thursday, 15 February 2018 04:42
Written by Bill Jaynes
Hits: 1040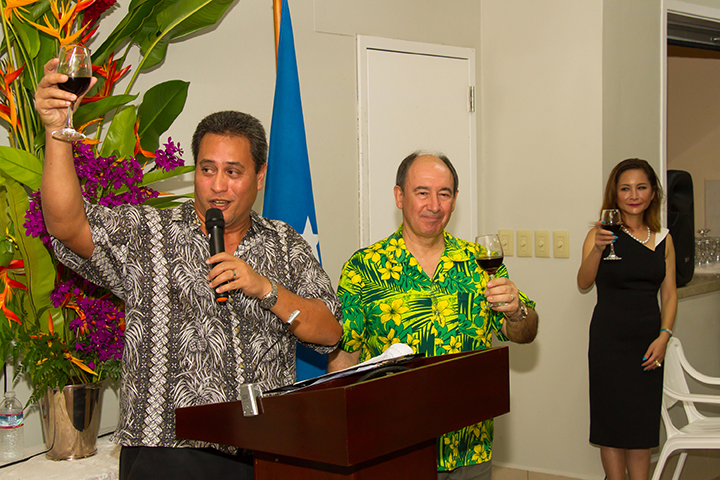 By Bill Jaynes
The Kaselehlie Press
January 26, 2018
Pohnpei—The Australian Embassy hosted a reception at their housing complex in Nanpohnmal in celebration of "Australia Day", the 230 anniversary of the arrival of the "First Fleet" in Sydney.
Ambassador George Fraser reminded those in attendance that less than six months after the FSM became a nation Australia established diplomatic relations with the new sovereign nation. "Since then, our two countries have achieved much together and I would like to acknowledge the work of previous Ambassadors and staff who have served here, as well as their counterparts in government. They have built the close relationship we enjoy today," he said.
He said that while at last year's celebration he spoke about Australia's innovations, this year he wanted to talk about Australia's values and views. He began with a discussion of the Australian government's 2017 Foreign Policy White Paper which set out the country's vision for the region and the world.
"The White Paper reflects our support for political, economic and personal freedoms; our desire to ensure a non-coercive and rules-based international order; including human rights and equity, and the rule of law," he said.
He spoke of Australia's development program saying that Australia's investment in Pacific partnerships is now at AUD 1.1 billion a year. "I want to state clearly that Australia welcomes other development partners in the Pacific. These partners are predominantly, the USA, China, Japan, New Zealand, the EU and international organisations. We each have our relative strengths and Australia will work cooperatively with all those delivering effective development outcomes," he said.
"Our focus is on supporting sustainable economic growth, resilience, stability and security in Pacific countries."
"In addressing development challenges in FSM, we are funding:
improved education outcomes,
greater gender equity and safety programs under Pacific Women Shaping Pacific Development" and through direct advocacy (congratulations, Pohnpei legislature for passing a domestic violence prevention Act); we look forward to working with Chuuk and Yap too
climate change adaptation
strengthened people-to-people links, and connecting public and private sector leaders
linkages for educational institutions and for students in Australia with their Pacific peers.
We are also:
using the benefits of our capable and experienced bureaucracy and economies of scale to assist those countries without connection to metropolitan states; eg. by providing pharmaceutical testing services
providing core financial support to the Pacific Islands Forum Secretariat, and regional specialised agencies.
"In this Embassy's area of responsibility, we will do less infrastructure work but more in human development, we will maintain our scholarships to Pacific institutions and aim to re-introduce high-level scholarships to Australian universities," he announced.
He spoke briefly about the benefits of PACER Plus to Pacific economies.
He then offered a toast to the government and people of the FSM.
FSM Acting Secretary for Foreign Affairs also spoke of the importance of the diplomatic relations between the two countries and also offered a toast.
A magnificent dinner was then served.