U.S. Government completes Typhoon Maysak reconstruction efforts, broadens environmental resilience support
Details

Category: News
Published: Thursday, 15 February 2018 05:00
Written by Bill Jaynes
Hits: 849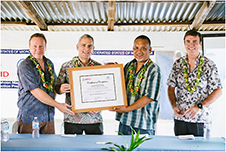 Embassy of the
United States of America Kolonia
January 20, 2018 Weno, Chuuk — U.S. Ambassador to the Federated States of Micronesia (FSM) Robert Riley, United States Agency for International Development (USAID) Deputy Mission Director to the Pacific Islands Clay Epperson, and FSM government officials marked the completion of homes and public infrastructure destroyed by Typhoon Maysak.

USAID and the Government of the Federated States of Micronesia coordinated with the U.S. Federal Emergency Management Agency, the Department of Agriculture, Food and Nutrition Services, and the Small Business Administration for this reconstruction program, which was implemented by the International Organization of Migration.
In Chuuk and Yap, USAID constructed over 400 new homes and over 150 public facilities, such as schools, clinics, and rain catchment systems. USAID also provided materials and vouchers worth nearly $2.8 million to over 1,350 beneficiaries who lost their homes, possessions, and livelihoods. Additionally, USAID trained close to 1,500 local residents to rebuild their homes and communities using resilient designs and quality materials so that the buildings can withstand future disasters.
"Our event today is not just about completing construction projects. We are also celebrating how our governments, non-governmental partners, and beneficiaries now have greater capacity to prepare for, respond to, and recover from disasters," said Ambassador Riley.

Epperson participated in the event as part of his four-day visit to FSM, during which he met with key partners and toured project sites where USAID is helping the country overcome environmental challenges. He met with the Chuuk Women's Council — a group that is helping