Monitoring team completes training and departs to collect forest health data in RMI's Atolls
Details

Category: News
Published: Friday, 02 March 2018 05:32
Written by Bill Jaynes
Hits: 733
The Ministry of Natural Resources and Commerce (NRC), together with the US Forest Service's (USFS) Forest Inventory and Analysis (FIA) program, the Micronesia Challenge Regional Office, the Micronesia Conservation Trust, and the University of Guam, recently completed a two-week training in Forest Inventory Analysis (FIA) data collection methods. The training prepared crew members to collect critical data on RMI's forest during monitoring that will take place over the next two months.

Every ten years, the USFS FIA surveys plots across the United States and affiliated countries and territories with a standardized protocol that allows for consistent, comparative data. The last FIA survey in the RMI took place in 2008 and collected detailed data on tree health, vegetation, invasive species, and more. This year, additional measures have been added to meet RMI's needs such as coconut productivity. The team will also add additional survey plots to help the RMI meet the goals of the Micronesia Challenge (MC), a regional initiative calling for effectively conserving 20% of terrestrial resources by 2020, including plots on three additional atolls not included in the 2008 survey at the request of NRC.
Training commenced on Tuesday, January 16 with an open information session at the RRE Boknake explaining the background of FIA and the MC, followed by an orientation of field tools and equipment. The rest of the week, the crew had hands on training while monitoring and installing plots in Majuro. On Monday, January 22, the crew departed in 2 groups to Arno atoll and Mejit Island to continue training and monitoring for the second week.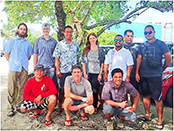 Ten additional atolls and islands (Jaluit, Aur, Kwajalein, Ailuk, Maloelap, Mili, Ailinglaplap, Likiep, Rongelap and Wotje) remain to be surveyed. On Tuesday, January 30, six of the trained crew members from the USFS, Pohnpei, Yap, Guam and the RMI NRC embarked on a 2-month research trip to complete this inventory. They will revisit the previous plots and establish additional ones, hoping to have completed surveys at 85 plots by the end of the trip. The data will provide valuable insight into the status of RMI's terrestrial resources that can be used by resource managers, communities, policy makers and relevant agencies.
The team is grateful for the support of many agencies, and especially to the communities, traditional leaders, Mayors and Ministers of the atolls to be visited, and for funding support for the MC monitoring from USFS Landscape Scale Restoration Grant #17-IG-11052021-237. For more information, please contact NRC State Forester Lajkit Rufus (This email address is being protected from spambots. You need JavaScript enabled to view it.), USFS FIA Project Coordinator Ashley Lehman (This email address is being protected from spambots. You need JavaScript enabled to view it.), Micronesia Challenge Terrestrial Champion Roseo Marquez (This email address is being protected from spambots. You need JavaScript enabled to view it.), or MC Regional Coordinator Rachael Nash (This email address is being protected from spambots. You need JavaScript enabled to view it.).