The nation mourns the passing of statesman and fifth FSM President Leo Falcam
Details

Category: News
Published: Friday, 02 March 2018 05:22
Written by Bill Jaynes
Hits: 2155
February 16, 2018
Pohnpei—The FSM is mourning the loss of its Fifth President, Leo Falcam who passed away on the evening of February 12 at the age of 82.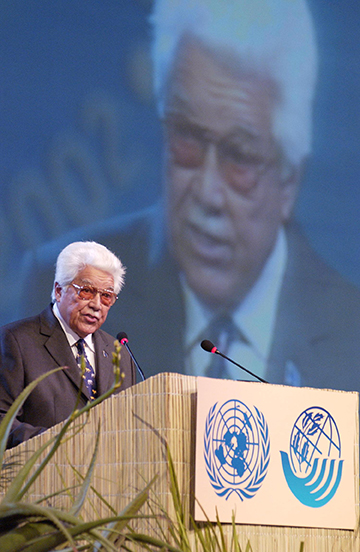 President Peter Christian declared a national mourning period with the National Flag flown at half-mast. A memorial service was held at Saint Joseph Catholic Church in Awak, U followed by a state funeral at the President's home in Awak.
"It is with profound sadness that I announce to this nation and its peoples the passing of a great leader, statesman, and a dedicated and true public servant, the former President of the Federated States of Micronesia, His Excellency Leo A. Falcam," President Christian proclamation said. "The late President Falcam, served this Nation as a very passionate, colorful and vibrant public servant in many highly respected positions of leadership"
President Christian's proclamation provided a wealth of information about President Falcam's public service life which is repeated here.
President Falcam was born on November 20, 1935 in Awak, U.
After Graduation from the University of Hawaii in 1962, President Falcam started his public service career as a teacher in Pohnpei. From 1962 to 1964, President Falcam joined the US Trust Territory of the Pacific Islands Government Headquarters in Saipan, Marianas Islands, as the Political Affairs Officer for the TTPI High Commissioner.
In 1964, President Falcam, was appointed as the Assistant District Administrator for Pohnpei District. The following year he left for Princeton University in New Jersey, United States, where he completed his fellowship studies at the Woodrow Wilson School of Public Administration and International affairs.
In 1966 he returned to the Trust Territory Government and served as the Executive Officer for the Office of the High Commissioner, and in his capacity as the Executive Officer, became the first Micronesian to serve as the acting High Commissioner for the Trust Territory of the Pacific Islands.
In 1972, President Falcam, became the first Pohnpeian to serve as the Pohnpei District Administrator.
In 1975, he was elected as a delegate to the first Micronesian Constitutional Convention, and was the chairman of the Pohnpei delegation to the Convention.
In 1976, he was appointed to head, and assigned to establish the first Micronesian Washington Office in Washington DC.
In May 1979, President Falcam was elected as the first Governor of Pohnpei State under the newly formed constitutional state government of Pohnpei.
In 1983, he was elected as a delegate and served as the Chairman of Pohnpei State's first constitutional convention.