Kolonia schools visit FSM Congress
Details

Category: News
Published: Friday, 02 March 2018 05:32
Written by Bill Jaynes
Hits: 1316
By: Richard F. Porter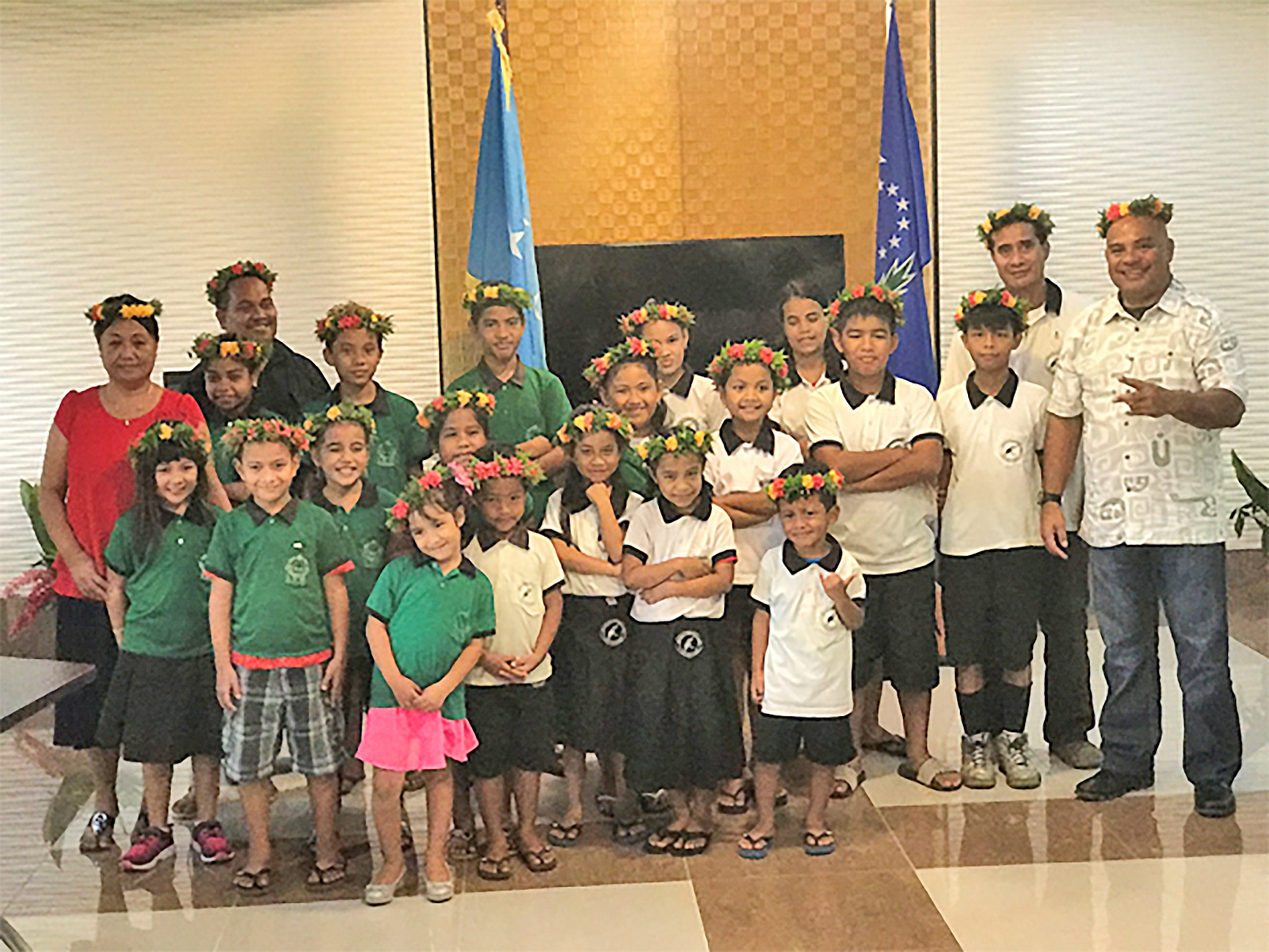 What started out as an idea by Senator David W. Panuelo introduced to the Principals of Kolonia and Ohmine Public Elementary Schools came to fruition on Wednesday, February 14, 2018. Nine Students from Kolonia and nine from Ohmine, one from each grade (ECE – 8th grade), for a total of 18 Students were selected as the Student of the Month for the month of January. During this visit, the Students along with their respective Teachers, School Principals and Vice Principals arrived to the FSM Congressional Chamber to first sit-in during a congressional session where Senator Panuelo, introduced each Student by name and grade they represent for each school.
The 18 Students and Teachers for each school are as follows:
Kolonia Elementary School
Keerson Salter Etse Santos ECE Cynthia Edwin
Darlan Artui 1st Ailina Ezekias
Yulie Aia 2nd Mindira Nanoto
Chanielle Carl 3rd Ronda Henry
April Jean Hainrick 4th Mary Aldis
Evamarie Faith Porter 5th Nikita L. Gallen
Omar Kenyon Santos 6th Joan Iohp
Anthony Reign Teeson 7th Mayleen Wichep
Daphne Rodriquez 8th Vanessa Bermanis
Representing Kolonia PTA: Mr. Richard F. Porter
Ohmine Elementary School
Khyra L. Ham ECE Mary Rettin
Briona Marquez 1st Diselina David
Francisco Celestine, Jr. 2nd Rihna Solomon
Riona Albert 3rd Merfelina Lick
Destiny Esiel 4th Edith Helgenberger
Kozel Irons 5th Wilynta Anton
Karen Semens 6th Brenna Malachi
Ryan Nakasone 7th Rose Werthog
N-Trew Solomon 8th Sepe Une
Representing Ohmine PTA: Mr. Trevayne Esiel
After witnessing Congress in session, the Students were moved to the Congress Committee Hearing Room and were presented with Certificates by Senators Urusemal and Panuelo and lastly by Speaker Simina. After this awards presentation, everyone enjoyed a lunch with Speaker Simina, Vice Speaker Moses, Senators Panuelo and Urusemal and Congressman Perman. The afternoon was topped off with a photo op with Senator Panuelo. Kolonia Elementary School 8th grader, Daphne Rodriquez is also the winner of the state level Scripps Spelling Bee.
Note: Richard F. Porter is the Parent Teacher Association (PTA) President of Kolonia Elementary School. Trevayne Esiel is PTA Vice President for Ohmine Elementary School.