International Women's Day participants pledge to make progress on women's parity
Details

Category: News
Published: Wednesday, 14 March 2018 23:28
Written by Bill Jaynes
Hits: 2730
By Bill Jaynes
The Kaselehlie Press
March 8, 2018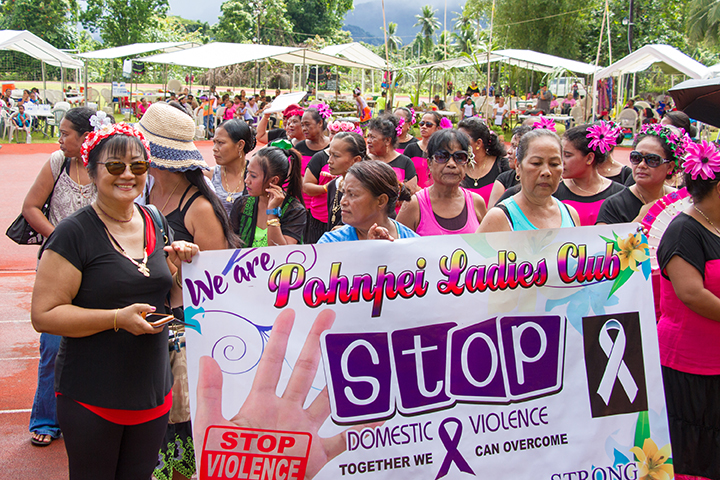 Pohnpei—Under the theme "Pledge for Parity", International Women's Day was celebrated at the PICS Track and Field with speeches, dances by women's organizations, displays and sales of arts and crafts, and a raffle to help fund the Pohnpei Women's Club's scholarship fund for Pohnpeian College Students.
International Women's Day is celebrated in many countries around the world. It is a day when women are recognized for their achievements without regard to divisions, whether national, ethnic, linguistic, cultural, economic or political. International Women's Day first emerged from the activities of labour movements at the turn of the twentieth century in North America and across Europe.
Since those early years, International Women's Day has assumed a new global dimension for women in developed and developing countries alike. The growing international women's movement, which has been strengthened by four global United Nations women's conferences, has helped make the commemoration a rallying point to build support for women's rights and participation in the political and economic arenas.
Emy Musrasrik served as the Master of Ceremonies. After 21 separate but united women's groups marched onto the track, Sister Christina Elias gave the invocation. Susana Sohs, President of the Pohnpei Women's Club gave entertaining and inspiring opening remarks.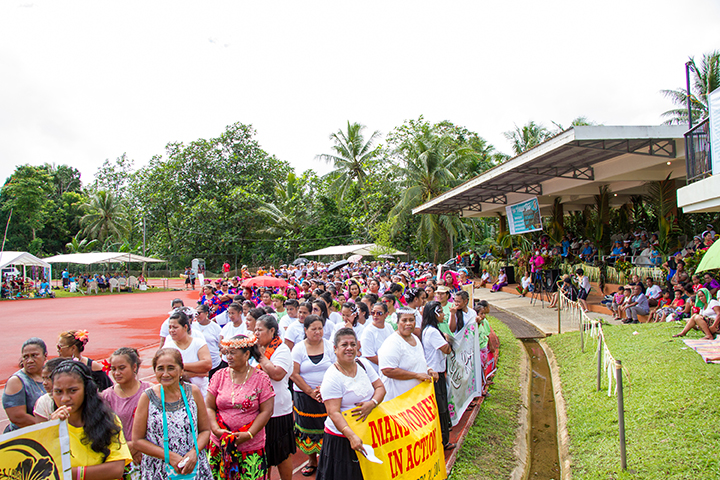 Mrs. Maria Donre, Vice-President of the Pohnpei Women's Club provided the key note address stressing the importance of the entire community to work together to promote parity (equality) for women and also congratulating the State Government for the passage of the Domestic Violence law. She also reminded the participants that women's rights and parity is not just important for women individually and as a whole, but for the entire community.
Governor Marcelo Peterson also gave his remarks saying that more work needs to be done together for the rights of women and indicating his support of that work.
Following a speech by the Mwolen Wahu the women's groups provided entertainment. If rain during an event is the sign of blessing as is often said in Pohnpei, the event was blessed indeed. Much of the dancing and entertainment took place during "deluges of blessings". The rain did not dampen the spirits of the women one bit.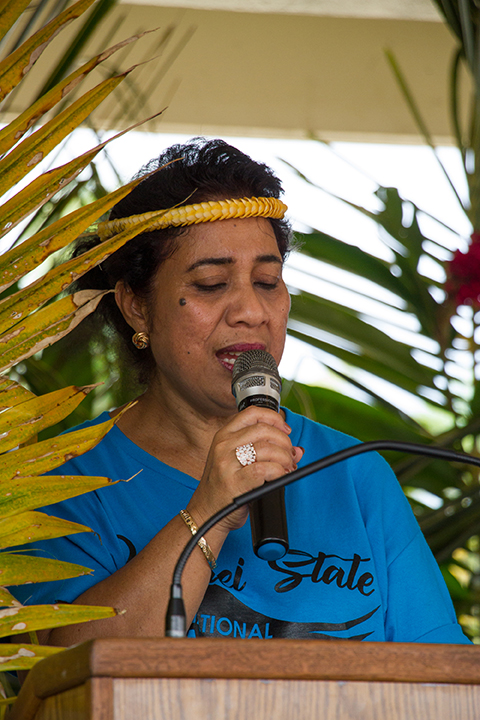 Though the event, as always was, light hearted, the issue of women's parity is a vital human right that internationally is all too often disregarded. The program for the event contained a pledge for parity in Pohnpeian that organizers asked participants to seriously consider.