JENESYS 2017 Certification Ceremony & Launch of the Japan-Pacific Alumni Association
Details

Category: News
Published: Tuesday, 10 April 2018 03:22
Written by Bill Jaynes
Hits: 624
Embassy of Japan--On March 10th, Ambassador Horie attended the JENESYS 2017 Certification Ceremony.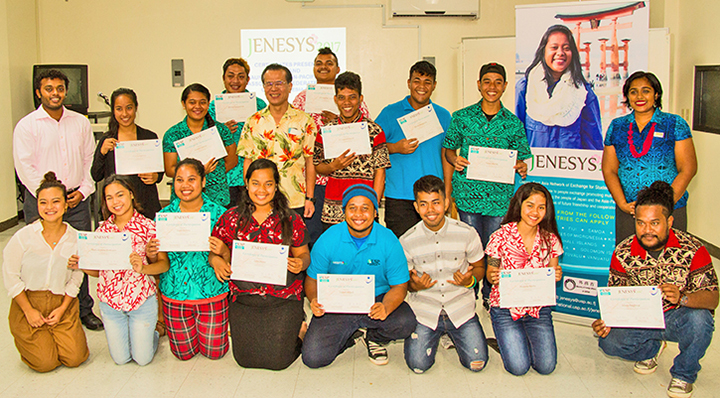 At the beginning of the ceremony, Ambassador Horie stated that JENESYS Programme (Japan-East Asia Network of Exchange for Students and Youth ) was created to promote "People-to-People Exchange" which is one of the main themes of PALM (Pacific Islands Leaders Meeting) and he was glad that twenty nine FSM students joined JENESYS 2017. He hoped that the program will be a good opportunity for students to get interested in Japan and the social and cultural exchanges between the FSM and Japan will become very active. Four participants reported their experiences in Japan with slides and videos. After participants got their certificate, the launch of Japan-Pacific Alumni Association was officially announced by Ms. Elisha Bano, JENESYS Project Coordinator, and Mr. Elvis Kumar, JENESYS Project Assistant. Two of them came from University of South Pacific in Fiji and also organized the ceremony.
They encouraged participants to find ways to make use of their experience in Japan after coming back from Japan. The members of the Alumni Association plan to promote JENESYS Programme to students at COM in the future.
JENESYS Programme was created for promoting understanding of Japan and youth exchange programs to build friendly relations and understanding of multi-cultures. The FSM students have participated in the JENESYS Programme for five years, and twenty-nine students, the biggest number, joined JENESYS 2017. The students were separated in 5 groups, which are "Building Peaceful Society, History", "Disaster Prevention", "Marine Resource", "Trade / Investment and Tourism" and "Sports".
The participants visited Japan for nine days during November 2017 to January 2018.