Grant Contract Signing Ceremony For Three New Grassroots Projects In Yap
Details

Category: News
Published: Tuesday, 10 April 2018 03:22
Written by Bill Jaynes
Hits: 585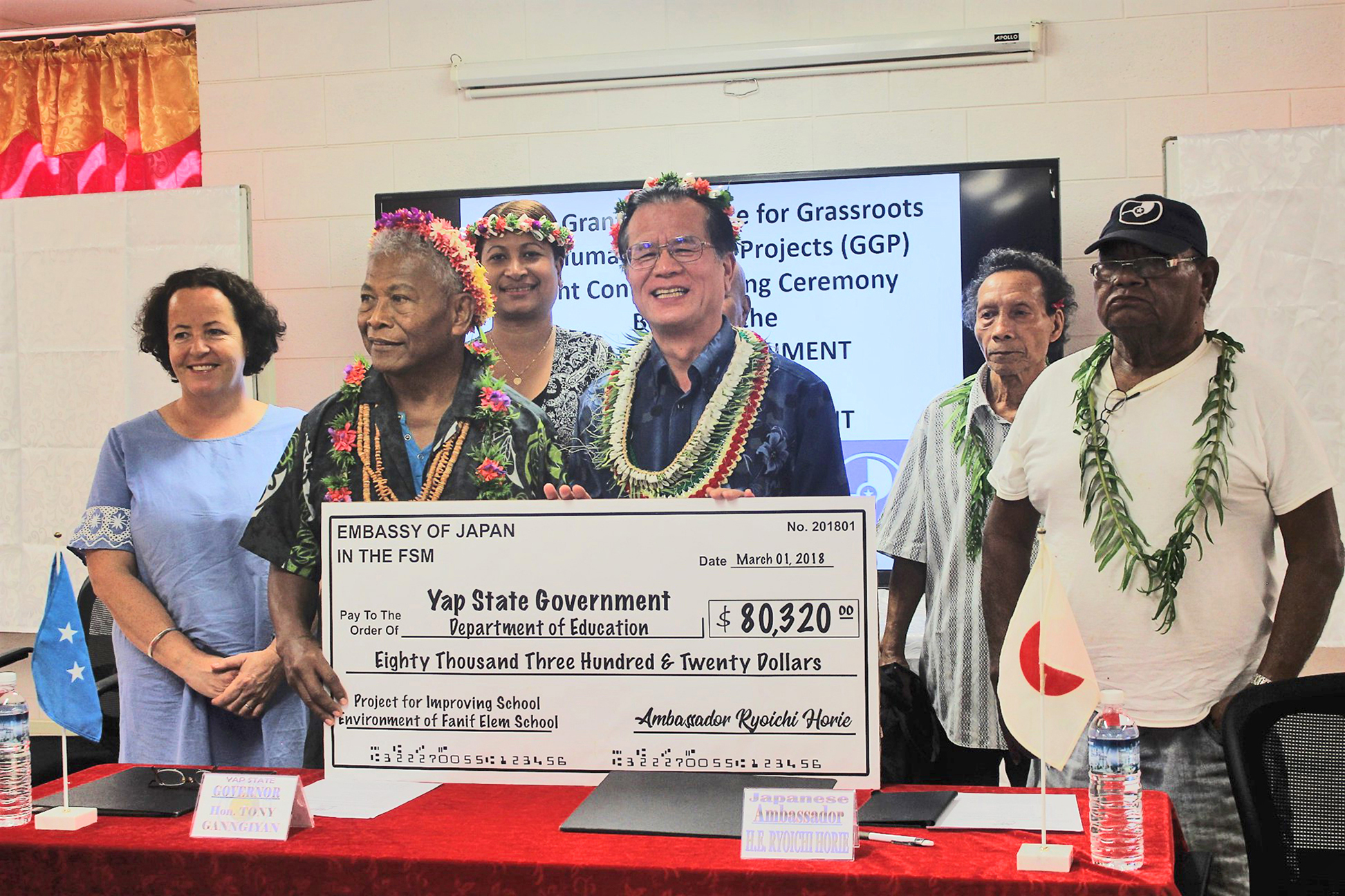 Embassy of Japan in the FSM--YAP, FSM—On March 1, 2018, a Grant Contract Signing Ceremony was held at Yap State hospital conference room for the three new grassroots projects. The details of each project are as follows:

1. Project for Improving School Environment for Rumuu (Fanif) Elementary School in Yap State
Aims of the project:
Improving the school safety by building a security fence, which can prevent students from strangers and breaking in
Improving school hygiene by providing a water gutter.
Grant Recipient: Department of Education, Yap State
Grant Amount: US$ 80,320
Grant Item: One (1) Security Fence and One (1) Water gutter

2. Project for Construction of Colonia Wellness Center in Yap State
Aim of the project:
Preventing non-communicable disease (NCD) by building a wellness center where people can do exercise regularly
Grant Recipient: Department of Health Services, Yap State
Grant Amount: US$ 90,000
Grant Item: Construction Cost for the wellness center.

3. Project for Procuring Waste-Management Equipment in Yap State
Aim of the project:
Improving the waste management system at Yap Recycling Program by procuring a 5ton forklift, a glass crusher and the training cost.
Grant Recipient: Yap State Environmental Protection Agency (EPA)
Grant Amount: US$ 85,482
Grant Item: One (1) 5-ton forklift, One (1) Glass crusher, One (1) Training on Usage and Maintenance of Glass crusher

The Hon. Tony Ganngiyan, Governor of Yap State, expressed his most appreciation for the continuous assistance from the Government of Japan, and explained the backgrounds and outlines of the three projects. He also stated that the Government will ensure that Ambassador's stay during the 50th anniversary of Yap day will be worthwhile and enjoyable.

In his address, Ambassador Horie stated that he was glad to sign three new projects as the embassy of Japan considers that the sectors related to those three projects (education, health and environment) are the most important sectors for the people of the FSM. Also, he mentioned that he was impressed by the clean environment of Yap State after visiting all 4 states, and he encouraged Yap State to be a good example for the other states in terms of "Environmental protection" and "Recycling" by collaborating two past projects (construction of landfill and procurement of a PET Granulator) implemented by the embassy of Japan.

The ceremony was witnessed by the Executive Director of Yap EPA Ms. Christina Fillmed, the Director of Department of Health Services Ms. Martina Reichhardt, the Director of Department of Education Ms. Teresa Filepin, the Director of Department of Youth & Civic Affairs Mr. Fancis Itimai, the Chief of Division of Media & Protocol Mr. Sebastian Tamagken, the Public Information Officer Mr. Joshua Libyan, staff of Yap State Government and staff of the Embassy of Japan.