COM FSM dedicates new canoe and canoe house as training opportunity for students
Details

Category: News
Published: Thursday, 12 April 2018 00:08
Written by Bill Jaynes
Hits: 1866
By Bill Jaynes
The Kaselehlie Press
April 3, 2018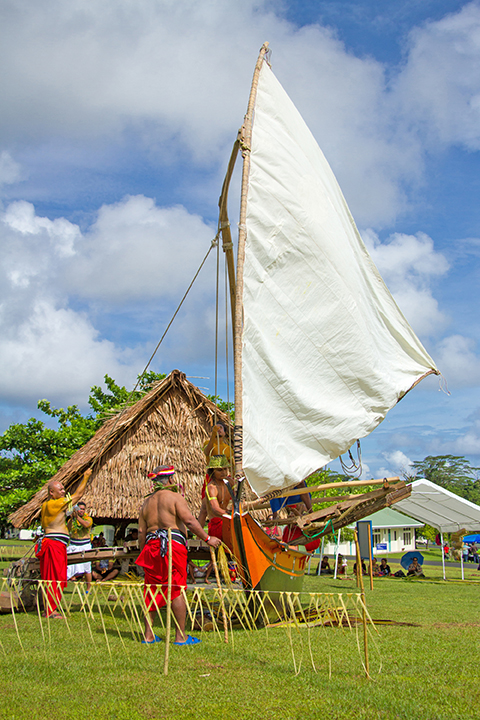 Palikir, Pohnpei—The College of Micronesia FSM held a dedication ceremony and demonstration of a new canoe and canoe house this morning.
The Yapese community in Pohnpei and Yap student group built the canoe house by working on the Saturdays in February and March. Shaun Suliol, an employee at COM FSM was involved in the project and said that Xavior Yarofmal who is from Woleai and is a professor at the college was the master builder and foreman for the new canoe house.
"It was a bit awkward building a canoe house in the middle of a mountain, but it's a place of learning—an island classroom," Suliol said.
He said that materials were purchased from the Pohnpeian community. The wood came from Sekere and the thatch for the roof came from U and Kitti. He said they purchased local ropes from outer islands in Yap and Chuuk and that they used a total of approximately 3000 yards for the house.
The canoe itself was sent to Pohnpei by modern transportation. It was made in Lamprek coordinated by Larry Raigetal and Joe Habuchmai.
There was quite a bit of discussion about the name of the canoe house which is Weriyeng which, as Habuchmai informed the audience at the dedication means "Seen/see winds", indicating that it can catch all winds or can catch wind from all directions. But it is also the name of one of the last two schools of traditional navigation. Mau Piailug was one of the most famous navigators of the school. Some wondered if it was an appropriate name for a canoe house in the middle of the COM FSM campus but ultimately the name stuck.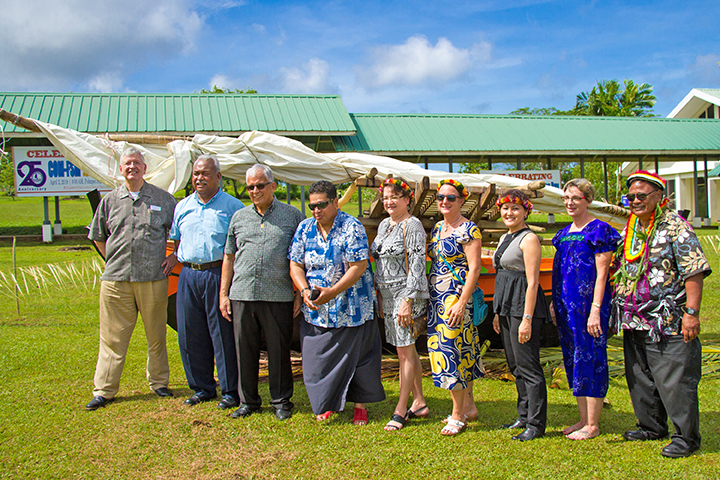 Larry Raigetal was to have presented the canoe and canoe house at the ceremony but as he is preparing for a crossing from New Zealand to Yap by traditional navigation in the next few weeks, could not make it to Pohnpei. Instead Joe Habuchmai presented them in a less traditional style that Raigetal would have done but in an entertaining manner.
At his instruction, burly Yapese men pushed the canoe onto the lawn on a bed of coconut branches. The men demonstrated the various parts of the canoe and hoisted the sail. A fully traditional canoe would have a sail of woven pandanus. The sail on COMFSM's canoe is of more modern material with the COMFSM seal in the middle of it. Even on land, the raising of the sail and the demonstration of "coming about" was a majestic site.
After the presentation of the canoe and canoe house, the crowd was invited to gather and take photos while the Yap student group finished preparations for traditional Yapese dance.