Joe and Marci Ayuyu—portrait of COM FSM supporters
Details

Category: News
Published: Thursday, 12 April 2018 00:08
Written by Bill Jaynes
Hits: 847
By Bill Jaynes
The Kaselehlie Press
April 5, 2018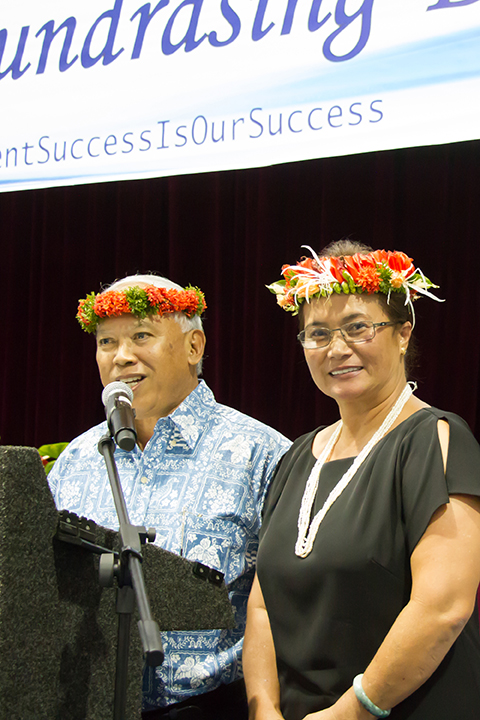 Pohnpei—When College of Micronesia FSM officials approached Joe and Ruri Ayuyu about the possibility of their purchasing an advertisement in the COM 25th Anniversary commemorative magazine, they didn't hesitate for a moment. They immediately purchased a two page advertisement. The magazine is not only a tool for information on the college; proceeds from advertisements in the magazine went to this year's endowment fund raising goal of $500,000.
The Ayuyus, who had already owned two McDonald's restaurants in Saipan recently purchased all eight of the McDonald's restaurants in Guam. They closed two of those restaurants and are currently building another in a different location. They employ over 500 people, making them one of the largest employers in the region. They said that more and more new job applicants for their restaurants are from the FSM. Ruri is herself from Chuuk, which is where she met her future husband, who was at the time a young banker from Saipan.
They said that though a remote distant goal might be to open a McDonald's restaurant in Pohnpei, they are not currently on island to explore business opportunities. They said they decided to come so that they could support the College of Micronesia. They have spent the last few days relaxing and sight-seeing and said that they have enjoyed the kind treatment of the people of Pohnpei and the relaxing environment.
Joe is a member of a very active Chamber of Commerce and Ruri is a Rotarian. They joined the Pohnpei Rotary club for their weekly meeting today.
Joe said that the last time they were in Pohnpei was for then FSM President Manny Mori's inauguration for his second time. He said that he immediately noticed an increase in Pohnpei vehicular traffic and a marked increase in development. "It looks like things are happening," he said.
The Ayuyus were very serious about their commitment to supporting the College of Micronesia FSM. At the fund raising gala dinner at the National Campus last evening, Joe took to the podium and announced that he had just decided to donate another $10,000 to the College and challenged others to do the same. Then he and his wife continued to bid generously for small symbolic items throughout the remainder of the evening.
By the time the gala fundraising dinner was over, donors had pledged over $576,000 for the college's endowment fund, smashing their $500,000 goal.