Celebration for Japanese Ambassador's Commendation
Details

Category: News
Published: Thursday, 12 April 2018 00:08
Written by Bill Jaynes
Hits: 840
Embassy of Japan to the FSM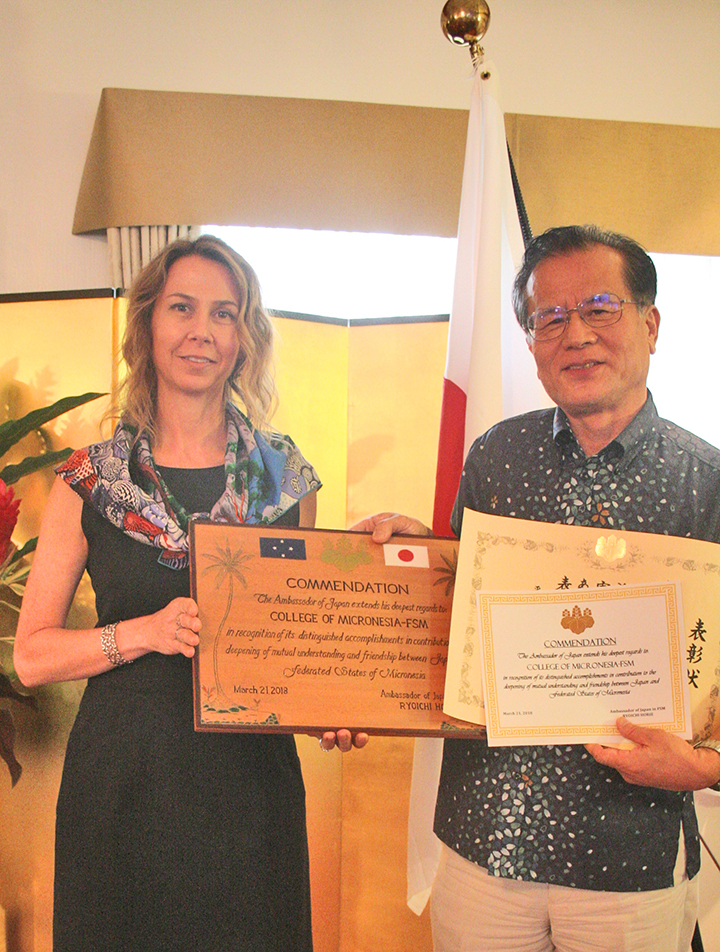 On March 21st, 2018,His Excellency Mr. Ryoichi Horie, Ambassador of Japan to the FSM, held a celebration party for commendation to College of Micronesia-FSM (COM-FSM) at his residence. The Hon. Yosiwo P. George, the vice president of the Federated States of Micronesia, attended as the chief guest.
Ambassador Horie awarded a certificate of commendation along with a handcrafted wooden plaque to COM-FSM in recognition of their distinguished contributions to deepen friendship between Japan and the FSM through a variety of student exchange programs with many different Japanese universities and Japanese language classes by JICA volunteers and Ms. Kamikubo, the associate professor of COM-FSM since its foundation.
The Hon. Joseph J. Urusemal, a member of 19th Congress of the FSM provided the congratulatory remarks and Dr. Frankie Harris, the acting president of COM-FSM accepted the award and expressed thanks and gratitude on behalf of COM-FSM.
In addition to the commendation ceremony, following three events were also taken place.
・The MOU signing ceremony between COM-FSM and Temple University Japan Campus to build a strong and long lasting academic partnership
・Basic agreement signing ceremony among APIC (Association for Promotion of International Cooperation) and Sophia University and Micronesia Conservation Trust (MCT) to foster human resources who will be able to address environmental issues in Micronesia.
・Fund donating ceremony by Ambassador Yoshiyasu Peter Sato, the President of APIC to COM for the project to improve COM-FSM Kosrae Campus library
The Ambassador's commendation is awarded to individuals or groups that have been making significant contributions to the promotion of friendship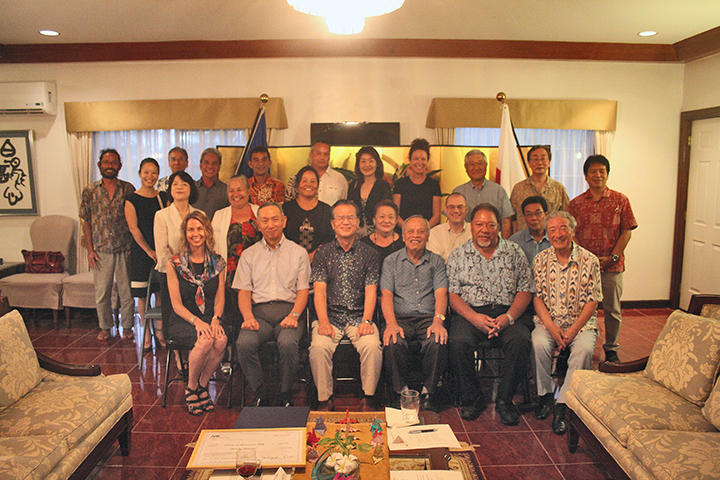 and mutual understanding between Japan and their own countries. COM-FSM is the second recipient in the FSM to receive this Commendation since 1988 when diplomatic relations between Japan and the FSM were established.
The ceremonies were witnessed by the guests from the National and State governments, COM-FSM, Temple University Japan Campus, Sophia University, APIC, MCT and JICA and the Embassy staff.