Doctors and Dentists for Tomorrow Graduates First Class
Details

Category: News
Published: Thursday, 31 May 2018 00:41
Written by Bill Jaynes
Hits: 1451
College of Micronesia FSM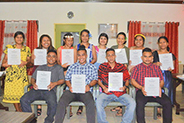 Twelve future physicians and dentists have graduated from the Doctors and Dentists for Tomorrow (DDFT) programme at the College of Micronesia-FSM, having received their associate's degrees, and are now in the process of applying for medical and dental school for 2019 in Fiji and Papua New Guinea. The twelve Micronesian students represent the first class of DDFT students. A second class of twelve DDFT students will graduate in 2019, and it is hoped that additional classes will follow, as DDFT seeks to train the future Micronesian healthcare providers and leaders of tomorrow.
DDFT is a joint program of the College of Micronesia-FSM, the Pacific Island Health Officers' Association (PIHOA), and the John A. Burns School of Medicine at the University of Hawai`i, in concert with local partners, such as the Pohnpei State Division of Health Services. DDFT is an intensive basic science preparatory programme for high-performing Micronesian high school graduates. DDFT students undertake two-and-one-half years of intensive applied basic science training on the campus of the College of Micronesia-FSM, before proceeding to medical school at a regional partner schools, such as the University of Fiji, Fiji National University, or the University of Papua New Guinea.
DDFT is unlike any other programme in the Northern Pacific. Students are taught using problem-based learning (PBL), which is the mode of instruction at regional medical and dental schools. Instead of lectures and memorization, students learn pathology, biochemistry, anatomy, physiology, medical psychology, and medical microbiology through applied case studies. These applied case studies are nearly identical to the ward rounds that students will participate in when they arrive in medical school, and include high-pressure critiques from clinical faculty members, which many students describe as acutely stressful, but also a great learning experience. Through solving real-life medical problems, students learn not only the basic sciences, but also the medicine they will one day practice in Micronesia. Students also participate in rotations at Pohnpei State Hospital, Dental Services, and Public Health, where they see the material they are learning in application on real patients.
In referring to the unique nature and difficulty of the DDFT programme, Dr Paul O. Dacanay, stated that, "This programme is hard! As a faculty, we make it that way, because we only want the best and the brightest caring for the people of Micronesian in the future. The fact that these students have succeeded and are now applying to medical school is a testament to their hard work and dedication."
The twelve graduates were honoured at an awards dinner held on Thursday, 17 May 2018, where they received special awards and recognition. Also honoured at this dinner were the family and friends who have supported the students during their time in DDFT.
Scarlett Lebehn was honoured as the DDFT Class of 2018 Valedictorian. She was also presented the first Dr Eliuel K. Pretrick Award for Academic Excellence in Health Careers, by Dr Gregory A. Dever on behalf of the Pacific Island Health Officers' Association. Dr Dever, in referring to all of the graduates, noted that, "You are the future of your country. You are treasures that your country and the region can look to for healthcare leadership in the decades to come as you treat and inspire the people of the FSM."
Additional academic honours awards were presented to Caroline Apaisam, who was honoured as the DDFT Class of 2018 Salutatorian; Bina Jackson, who received Upper Second-Class Honours, followed by Mira Pama, who received Lower Second-Class Honours, and finally, Joyce Panuel, who received Third-Class Honours.
Seamon Andreas, Jr., was presented the Positive Attitude award; followed by Quilan Cantero, who was honoured with the Enthusiastic Learner award; and then by Lucyle Eliou, who received the award for Excellence in Teamwork. This was followed by Joshua Gabriel, who was honoured with the award for Meritorious Improvement; to be followed by Jamie-Ann Noket, who received the Superior Problem-Solving award; and then BeeWee Tara, who received the award for Excellence in Leadership; being followed by Treza Thoses, who received the Outstanding Improvement award.
During the awards ceremony, Dr Brian P. Mangum, DDFT faculty member, noted, "We are intensely proud of the accomplishments of these students! They have worked hard for the past two years. But this is only the beginning of their journey to becoming the doctors and dentists for tomorrow. They will now progress to medical school, where they will use the knowledge they have gained in the DDFT programme to excel in their studies, so that one day they can return and care for their own people, and thus ensure the future health and well-being of all Micronesians."
The following day, the DDFT students officially graduated from the College of Micronesia-FSM during its regular commencement ceremonies.
All twelve are applying for entry to both the University of Fiji and Fiji National University to begin their medical or dental studies in early 2019; and have committed themselves to returning to practice in the Federated States of Micronesian upon graduation. "These young women and men are committed to the FSM. They have learned about the health challenges facing the region, as well as both clinical and public health approaches to face these challenges," stated Mr Robert W. Spegal, programme manager, "and when they return, they will face these challenges head-on as the healthcare providers and leaders of the region."
The twelve graduates have already chosen which specialties they would like to pursue, based upon their clinical exposure, as well as research into which specialties are most need in Micronesia, including general surgery, paediatrics, obstetrics and gynaecology, psychiatry, pathology, and ophthalmology.
Three former DDFT tutors are already in medical school in Fiji, including two who are in their second year at the University of Fiji, and wish to return to Micronesia as general surgeons, and one who is in her first year at Fiji National University, and wishes to return to practice as a cardiologist one day.