FSM President Peter Christian speaks to PALM leaders on Cooperation in the International Arena
Details

Category: News
Published: Thursday, 31 May 2018 00:41
Written by Bill Jaynes
Hits: 995
"At the outset, I convey warm greetings from the leaders and people of the Federated States of Micronesia. I wish to join the previous speakers in expressing my appreciation to Prime Minister Abe and for the invitation, and to the leaders and people of Fukushima Prefecture and Governor Uchibori, especially Mayor Shimizu of Iwaki City for their very, very warm welcome and courtesies. I commend the organizers and all those involved in the preparations and arrangements.
"Co-Chairs, it is my pleasure to make a short comment on the assigned topic of Cooperation in the International Arena; and specifically, I would like to address the Korean peninsula issue.
"From a Pacific perspective, it is absolutely safe to say that all of us want to see peace on the Korean Peninsula, and in this region in general. Also, we know that this Peace we wish for is not to be found in a 'one stop shop,' nor with the right of might. We know from recent events that this is simply wishful thinking.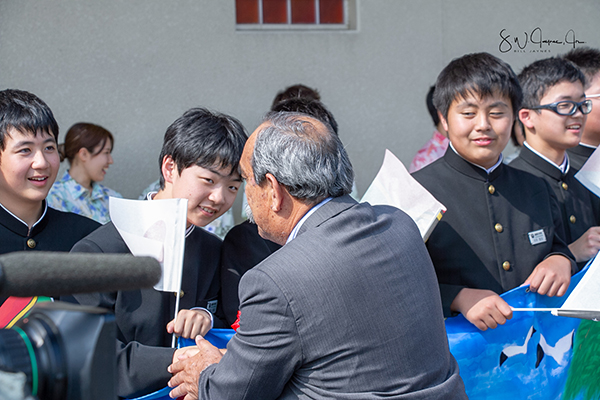 "For peace in the Korean Peninsula to become a reality, it must be formulated from within and be embraced by those who live there; supported by all of us first as a people for peace, and even more so as members of the United Nations. Peace for the people of the Korea's means peace for our region.
"The Democratic People's Republic of Korea and the Republic of Korea have made that first attempt—that first important step.
"I, like many other Pacific Islands leaders, applauded this effort to bend into the wind, or reach over a burning furnace to exchange a handshake that may usher in and embrace the start of meaningful and respectful dialogue; ultimately towards a lasting calm and peace for the Korean Peninsula, and for all of us who share with them the Pacific Ocean.
"First meetings are always difficult, and can be made more difficult if there are preconditions made to be met before any sit down. Preconditions can discourage, even derail any effort to meet.
"I am often amazed at how much is the 'take away' from meetings from which no one expects satisfying results, and how surprisingly history will often record that those first meetings are pivotal.
"There are many more things that we who sit on the sidelines wish for, for all our sakes.
'First and foremost we wish that the climate and environment of the meeting be calm, and civility be its central décor. That after the noodles are done, and Mr. Trump and Mr. Kim are served their Chocolate dessert, both would realize how easier it is to speak softly across a table, rather than shout at each other their ideas of fire, fury, and total destruction across the Pacific Ocean. This only causes fear in those whose only role is to wish for peace.
'Little as our voice may be, the leaders of North Korea and South Korea acknowledged receiving a letter from the Federated States of Micronesia congratulating and encouraging the two leaders good effort towards possible reconciliation.
"As I speak from Micronesia and for the people of Micronesia, I cannot help but remember that my government has a very special relationship with Mr. Trump's America. Like Republic of Palau and the Republic of the Marshall Islands, The Federated States of Micronesia is more than just a diplomatic ally of the United States; we have a strategic defense and security agreement with the United States of America.
"A man I know a little about advises us that with great power comes great responsibility. It was a paraphrase of Luke 12:28 that reminds us that to whom much is given, much is expected.
"The United States of America is strong. And the strong can and should afford to be humble with their strength and might. Sitting down for a few words with Mr. Kim is more than just an "America First" show of strength. It is an exhibit of the character that America is known for.
"We continue to hope first for calmness among peoples and nations. Mostly, I long for normalization and lasting peace for the Korean Peninsula. And in my humble opinion such a wish can only be realized by two countries—The Democratic People's Republic of Korea (North Korea), and the Republic of Korea (South Korea)."