PMK Fish Market says goal is sustainable fishing and safer markets not competition with local markets
Details

Category: News
Published: Thursday, 31 May 2018 00:41
Written by Bill Jaynes
Hits: 2400
By Bill Jaynes
The Kaselehlie Press
May 18, 2018
Pohnpei—The mission of the PMK (Pohnpei Menin Katengensed) Fish Market is a noble one. The non-profit market hopes to protect Pohnpei's fishery from unsustainable fishing practices while simultaneously providing fishers with the best prices for their sustainably caught fish.
The market is beautiful and clean. Surfaces gleam and all of the caught fish are cold and inviting. Fresh fish on ice are only display for one day before they are filleted and vacuum packed. PMK Market buys fish only from its members, each of whom pay annual dues of $10 and commit to fishing only by sustainable methods. The market does not buy night caught fish nor does it buy net caught fish. It buys only fish caught by line and adheres strictly to the law in terms of size limits and seasonable bans on spawning fish.
It provides training for member fishers on sustainable catch methods and on proper fish handling techniques both in terms of cold storage and in terms of safe release methods for fish that are caught under size. It does not buy crabs that have eggs and never buys crabs that are undersized. All fish are thoroughly inspected before purchase.
The market does not buy Skipjack tuna but only because the meat does not do well when vacuum packed.
The Menin Katengensed is also offering free training to local fishers for catch-and-release of undersized fish, safe handling and sanitation for fishers and market owners, and catching and on-board handling and processing of sashimi-grade tuna. Member fishers will also be receiving discount ice, engine oil, and the use of long-storage coolers to ensure fish are kept onboard at safe temperature and to reduce overhead costs.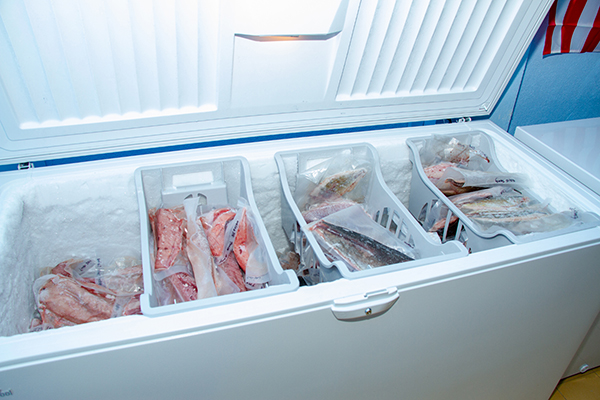 Francisco T. Sohl, the manager of PMK Fish Market and the Secretary for the Menin Katengensed Fisher and Market-Owner Association, said that though the PMK association currently has five members in each of the municipalities, some fishers have chosen not to participate due to PMK's ban on night time fishing. Still he says they hope to attract 10 more fishers from each municipality. He thinks that may happen when fishers realize that PMK Market pays on average 33 percent more for fish than do most local markets. He invites all fishermen to join for the benefit of Pohnpei coastal fishery and for their own livelihoods.
Sohl said that it is not the goal of the non-profit market with outside funders to drive other local operated markets out of business. He said that the market has three main goals. It hopes to serve as a model for other markets to emulate in terms of safe fish storage and sales and sustainable fish purchasing. It hopes also to provide a living wage for fishers and to minimize over fishing.
Unfortunately, the method used in February to roll out the message of the new fish market did make it seem that the new market was the only safe place for customers to buy fish in Pohnpei. An email message was sent out on a Google group whose membership consists mainly of expats announcing the new market. On the following day a message was sent out on the same group announcing the results of testing that showed the presence of harmful bacteria such as e. Coli in a small survey of fish from each of five fish markets.
"I guess all I can say is that the timing of the article release was unintentional and the timing probably hurt the new MK market opening as much as anyone else," wrote Dr. Kevin Rhodes who conducted the study and released the emails. Rhodes is an adviser to PMK, who for twenty years has conducted research on coastal fisheries in Pohnpei and released several beneficial studies with the goal of improving the lives and livelihoods of the people of Pohnpei. He says that is still the goal.
Sohl says that PMK has a meeting in the middle of each month and encourages local market owners to come to one of them and talk about how they can work together to improve market safety of seafood sold in Pohnpei and to discourage overfishing. He said that he encourages any community member with questions to attend one of the meetings. The next meeting will be on June 15.
Contact PMK Fish Market at 320-3697 for time and venue for the meeting.